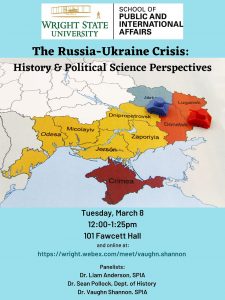 Wright State University faculty experts in Russian and Ukrainian history, foreign policy and political science will analyze the war in Ukraine and its larger implications during a panel discussion.
"The Russia-Ukraine Crisis: History and Political Science Perspectives" will take place Tuesday, March 8, from noon to 1:15 p.m. in 101 Fawcett.
The discussion will also be streamed live on Webex and made available for viewing at a later date.
Organized by the Wright State School of Public and International Affairs in the College of Liberal Arts, the discussion is open to students, faculty, staff, alumni and the public.
The panel will feature Sean Pollock, Ph.D., professor of history; Liam Anderson, Ph.D., professor of political science; and Vaughn Shannon, Ph.D., professor of political science.
Laura Luehrmann, Ph.D., professor of political science and chair of the School of Public and International Affairs, will moderate the panel.
She said organizing a panel discussion with cross-disciplinary perspectives can "enrich our ability to understand the situation." The panelists will provide accurate information and a deeper understanding of the war in Ukraine while seeking to combat disinformation about the conflict, she said.
"Our faculty welcome the opportunity to apply our research and share our work with our students and the broader community, especially when real-world events demand deeper awareness, such as we find with the war in Ukraine," Luehrmann said. "It's an overused word recently, but it is true — we are navigating unprecedented changes and challenges, and it is the responsibility of a university community to promote dialogue so that we may all do our best to understand it."
The panelists are experts in areas directly connected to the Ukrainian-Russian crisis.
Pollock has worked extensively in both Ukraine and Russia, specializes in Russian and Ukrainian history, and has taught courses on imperial Russia, the Soviet Union and modern Europe.
He will provide important historical context, particularly about recent speeches and claims by Russian President Vladimir Putin in the buildup to the invasion of Ukraine.
Anderson teaches courses on Russian politics and foreign policy and specializes in international relations and the former Soviet Union.
He will highlight the Russian perspective on global and regional events since the collapse of the Soviet Union in 1991, including the expansion of the North Atlantic Treaty Organization (NATO), the conflict in Kosovo and Russia's annexation of Crimea in 2014.
Shannon specializes in political psychology, international security and foreign policy norms and decision-making.
He will discuss the norms of force, the importance of perceptions in crisis and causes of war.
Luehrmann said interest in the panel discussion is high, with inquires originating beyond Wright State from personnel at Wright-Patterson Air Force Base and alumni around the world.
The School of Public and International Affairs began organizing the program before Russia invaded Ukraine, and on Feb. 24, the first day of the conflict, Anderson and Shannon held impromptu public "office hours" on Webex.
"Students and faculty alike attended, and appreciated the 'on the spot' analysis and discussion," Luehrmann said. "This is what we do."