In the 1830s, the U.S. government forcibly removed 60,000 Native Americans from their ancestral homelands in the southeastern United States to so-called Indian Territory west of the Mississippi River. The relocated peoples suffered from exposure, disease and starvation while en route on what came to be known as the Trail of Tears.
In 1838, hundreds of Cherokees in the mountains of Southern Appalachia avoided the invading U.S. Army and remained in the region, including a community of about 100 Cherokees hiding in the steep mountains of North Carolina.
In his new book, "Their Determination to Remain: A Cherokee Community's Resistance to the Trail of Tears in North Carolina," Wright State University historical archaeologist Lance Greene, Ph.D., explores the complexities of race and gender in the antebellum South and the real impacts of racism.
Greene, an associate professor of anthropology, details the story of two plantation owners, Betty and John Welch, who helped the 100 Cherokee avoid removal and even provided land for them to rebuild a new community.
Members of Welch's Town experienced a transitional period in which they had no formal tribal government or clear citizenship yet felt secure enough to reestablish a townhouse, stickball fields and dance grounds, all in the midst of a growing white population who resented a continued Cherokee presence.
Greene's study, which incorporates historical narrative and archaeological data, details how Betty, who was white, outwardly participated in modern Western lifestyles, while John, who was Cherokee, maintained a hidden space for the continuation of traditional Cherokee cultural practices. They also held in bondage nine African Americans.
Greene's book also includes a fictional narrative of events on the Welch plantation. Using historic documents and archaeological data, Greene provides an intimate view of the people who interacted on the plantation in the years following removal and how they adapted to their new social environment.
Greene's book, published by the University of Alabama Press, has been well-received by historians and archaeologists.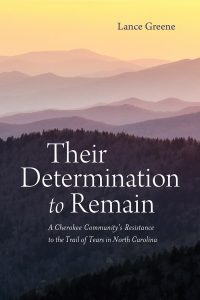 "Lance Greene unearths stories from soil and archives alike to craft a vivid and humane Cherokee history," wrote Elizabeth Fenn, author of "Encounters at the Heart of the World: A History of the Mandan People."
Brett Riggs, author of "May We All Remember Well: A Journal of the History and Cultures of Western North Carolina," said Greene reveals a remarkably complex and thoroughly unexpected story of successful Cherokee resistance to the Indian Removal policy.
"At the center of these efforts was the enigmatic Welch family of southwestern North Carolina, a well-informed and well-connected Anglo-Cherokee household that applied nuanced legal strategies and extralegal maneuvers to shield themselves and their community from deportation," wrote Riggs.
Rose Stremlau, author of "Sustaining the Cherokee Family: Kinship and the Allotment of an Indigenous Nation," said Greene's study is unique.
"Their Determination to Remain" will contribute to the larger body of scholarship on Cherokees, Indian Removal, community studies and family history," wrote Stremlau.
Greene is also co-editor of "American Indians and the Market Economy, 1775–1850."