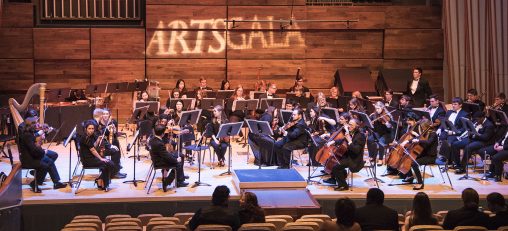 After a two-year hiatus due to the COVID-19 pandemic, Wright State University's ArtsGala returns in-person Saturday, April 9, in the Creative Arts Center.
A black-tie optional event presented by the College of Liberal Arts, ArtsGala offers patrons a refreshing chance to enjoy student performances in theatre, dance, motion pictures, music and visual arts. All proceeds go toward scholarships for WSU's fine and performing arts students. The event has raised nearly $3 million for arts scholarships during its 22-year history.
"The scholarships have a double benefit for the students," said Joe Deer, WSU artistic director. "It puts them right in front of the people who are supporting and helping them get through their education and it's also a beautiful demonstration of what the students are learning and doing here. You cannot turn a corner in the Creative Arts Center without seeing the students working at such a high level."
This year's special programming includes:
Percussion Ensemble performance
Selections from "Sweet Charity"
Live artistic creation by student artists in the Stein Gallery "Art Experience"
Making a scene: film students recreate the set of "BIG"
"Broadway's Greatest Hits," "Disney Rocks!" and "Oh, Woo Me, Woo Me!" (Shakespeare and romance)
Chamber Orchestra performance – "Music By Moonlight"
"An Evening At The Opera"
Dance performances – student choreography and performances
"We are completely dedicated to providing accessible education," Deer noted. "Any student who is up to the standards we're expecting of incoming students, and we accept them, we want to be sure they receive an education. The only way to do that is through institutional support and this kind of fundraising for scholarships."
Read the complete article from the Dayton Daily News.