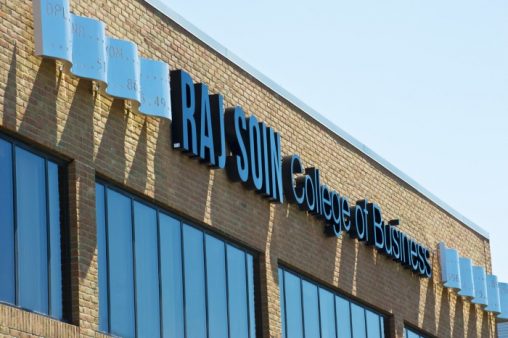 The Wright State University Raj Soin College of Business received two prominent rankings for 2022, as one of the Most Affordable Entrepreneurship Colleges and as one of the country's Best Online Master's Programs in Information Systems.
Wright State's entrepreneurship program was ranked No. 53 out of the nation's top 100 best affordable programs, higher than those at universities such as Michigan State and Ohio State, according to University Headquarters.
Based in Scottsdale, Arizona, University Headquarters is an independent educational organization that helps students find the best colleges for themselves and plan career paths. The group based its rankings on the cost of admission, retention rate, graduation rate, estimated graduating salary and other factors.
The Raj Soin College of Business offers a bachelor's degree in entrepreneurship and an entrepreneurship minor. The Entrepreneurship Program prepares graduates with courses geared toward experiential learning, giving students the opportunity to apply learned concepts to real-world situations.
"The knowledge and experiences gained by entrepreneurship majors will support our students' efforts to create successful new venture startups," said Kendall Goodrich, Ph.D., professor and chair of the Department of Marketing and director of the Entrepreneurship Program. "Also, entrepreneurship majors are in high demand at larger companies, which are looking to launch new initiatives or maintain their entrepreneurial culture."
Goodrich said that students gain experience by working with local businesses and solving real business challenges. Students also develop business plans for local startups or even cultivate their new venture ideas as part of regular courses.
Students work closely with the local "entrepreneurial ecosystem'" of entrepreneurs and organizations such as the Small Business Development Center, the small business incubator that is The Entrepreneurs Center, Air Force Research Laboratory and the Wright Brothers Institute, Goodrich said.
The student-led Entrepreneurship Club features business speakers, facilitates networking and mentoring with local executives and sponsors team projects to support new venture development.
In addition, the Raj Soin College of Business has been ranked number 15 out of the 21 best schools for its online Master of Information Systems by OnlineMastersDegrees.org.
"Out of 7,700 schools analyzed, only 21 schools were ranked, of which Wright State's masters in information systems program placed 15th," said Daniel A. Asamoah, Ph.D., associate professor of information systems and interim chair of the Department of Information Systems and Supply Chain Management. "That is a huge achievement."
Asamoah added, "Our ranking among some of the top schools is a testament to a continual effort by students, faculty and staff in ensuring that our program remains robust and relevant to the information systems industry's ever-changing terrain and job skills requirements. It is a significant honor to the Information Systems Program and the Raj Soin College of Business."
OnlineMastersDegrees.org features user-friendly, research-backed content to help students find accredited online master's degrees that meet high standards and can help them achieve their career goals.