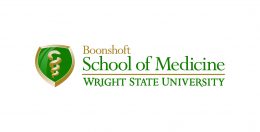 When it comes to diversity, the Wright State University Boonshoft School of Medicine is the best in Ohio and the 13th best in the nation among 125 similar schools, based on rankings 2022 by U.S. News and World Report.
U.S. News ranked each medical school based on the percentage of its fall 2021 total enrollment as reported to U.S. News of students from underrepresented minority populations and how that percentage compares with state and national race-ethnic-group proportions.
"At BSOM, our mission is to create the physician workforce of the future," said Valerie Weber, M.D., dean of the Boonshoft School of Medicine. "We know that by creating a workforce that reflects society, we will improve health care quality for Ohio and beyond, and therefore we are committed to admitting medical students reflecting the many dimensions of diversity. Our students, who predominantly come from Ohio, are stellar young people who, in high numbers, remain in Ohio and choose primary care and other much-needed specialties."
Lakia Young, director of admissions at the Boonshoft School of Medicine, said that the school has had a "longstanding interest in educating a culturally diverse student population. The recognition by U.S News and World Report shines a light on the work that we have been doing for over 40 years."
"Not only should medical student and physician demographics reflect the national population, but studies show that racial and ethnic minority physicians are more likely to practice primary care and serve underserved communities," Young said. "We look forward to continuing to matriculate a culturally diverse student body and educating future physicians who will provide patient-focused care and improve the health of their communities."
In addressing the diversity issue, the Association of American Medical Colleges said, "Medical school leaders have embraced diversity and inclusion as key components of achieving their institutions' missions, visions and goals. … A shared desire for change, aided by a growing number of resources, will enable medical schools and academic health centers to assess their institutional culture and climate and improve their capacity for diversity and inclusion."
In the case of the Boonshoft School of Medicine, it's already addressing the need for diversity.