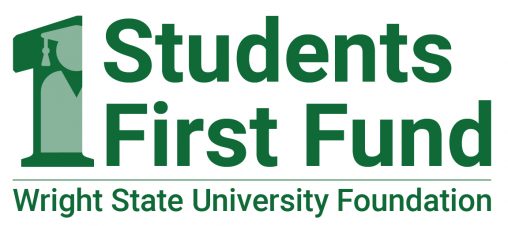 Simulated ventilator equipment for nursing students, a leadership academy for sophomores and new technology for motion pictures students are among the projects that have been approved for the latest round of Students First Fund grants.
Launched in January 2019, the Students First Fund was created by the Wright State University Foundation Board of Trustees to be proactive in seeking and funding innovative ideas that enhance the Wright State student experience.
This year, 23 grant applications were submitted totaling $145,000.
"We are always impressed with the quality of the grant applications that we receive. This year was no exception," said Dave Donaldson, chair of the Students First Fund grants committee. "With so many worthy projects competing for a limited amount of funding, it's never easy to decide which ones to select. The 11 projects that were funded will have far-reaching impacts on both the Dayton and Lake Campuses."
In selecting the projects, Donaldson said that the Students First Fund grants committee wants to impact as many students as possible. The committee also encourages and expects all grant recipients to leverage existing equipment, supplies and resources across campus whenever possible.
"We would like to thank all of the faculty, staff and students who took the time and initiative to submit a proposal," said Donaldson. "The applications clearly demonstrate the Wright State community's commitment to student success, campus engagement and professional development."
The following projects were approved for Students First Fund grants, with awards ranging from $1,554 to $6,555:
Educating the Next Generation of Nurses to Successfully Care for Ventilated Patients — The School of Nursing, Kinesiology and Health Sciences will purchase simulated ventilator equipment to give nursing students hands-on training in respiratory care.
Passing the Test: Supporting Licensure Candidates/Students with Mometrix — The College of Health, Education and Human Services will purchase Mometrix study materials to help prepare education majors to pass their teacher licensure tests.
Business Buddies — A new Business Buddies program, overseen by the Dean's Student Advisory Board in the Raj Soin College of Business, will help build relationships among business students.
Thinking Outside the Building: Creating an Outdoor Classroom and Recreation Space — The Collegiate Young Farmers Club at the Lake Campus will develop two areas outside the Agriculture and Water Quality Education Building into an outdoor classroom space, pollinator habitat and wetland area.
The 3 R's — The education department at the Lake Campus will engage in community and campus outreach to promote recruitment, retention and relationships.
Wireless Follow Focus Systems: Motion Pictures Thesis Camera Support — The Motion Pictures Program will purchase two wireless follow focus systems that will be utilized with the department's thesis cameras. Knowledge of wireless focus systems is essential for the employability of motion pictures students and graduates.
Classroom Management Simulations: Mursion — The Office of Partnerships and Field Experiences in the College of Health, Education and Human Services will provide education majors access to Mursion, a simulated teaching experience, to help set them up for success in their real-life field experiences in the classroom.
Potentiostat Instrumentation Needed to Meet the 21st Century: Sensor Development — The Department of Chemistry in the College of Science and Mathematics will acquire a potentiostat, a critical instrument in helping students learn how to build and analyze sensors.
Green Zone Training — The Veteran and Military Center will offer training to faculty, staff and students to help advance an understanding of military and veteran culture and to increase support for student veterans and military-connected students.
Science and Math Cohort Development through Experiential Learning Pods — To help students better engage with their major and successfully complete their programs, the College of Science and Mathematics will pilot a research-based laboratory cohort for incoming students.
Dean's Leadership Academy — Led by the dean of students and the program manager for Leadership in Student Involvement, the Dean's Leadership Academy will help address the sophomore slump, where second-year college students can encounter challenges with academics, social interactions and personal development. The for-credit course will help students develop as leaders and discover their passions.
"We are proud to champion this innovative program to help Wright State students succeed," said Scott Rash, president and CEO of the Wright State University Foundation. "The Students First Fund grants play a vital role in supporting the university's commitment to recruitment, retention and relationships."