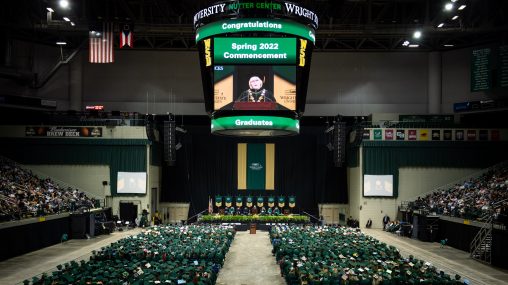 Graduating students and their families celebrated the culmination of their education at Wright State University's spring commencement ceremonies on April 29 and 30 at the Wright State Nutter Center.
The graduates joined more than 116,000 alumni who are making a difference throughout Raider Country, all over Ohio, across the nation and around the world.
The ceremonies included a brief video message from Gov. Mike DeWine, who said, "The state of Ohio and the Dayton region need Wright State graduates like you. We succeed when you succeed."
Wright State University President Sue Edwards, Ph.D., addressed the class of 2022, urging students, family and friends to savor the accomplishment of earning a college degree and to drive toward their next adventure.
"Graduation is often seen as the finish line, one that marks the end of a long journey, but I want to remind you all your education does not stop once you leave us today," said Edwards. "Yes, the many hours of studying, writing papers and cramming for exams may be finally over but hopefully you will be open to a life that is filled with continuous education, always questioning, always looking for new solutions, always critically reviewing and analyzing."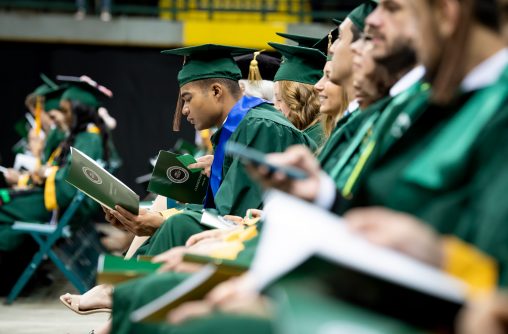 See more photos from Wright State's spring commencement ceremonies >>
She drew attention to the unique experiences graduates acquired under the circumstances, skills developed to cope and thrive in the pandemic, and the invaluable traits this class used to cross the finish line.
"There have been new and frightening challenges that you have encountered along the way, but there have also been exciting promising opportunities that have presented themselves too," said Edwards. "How did you get here? You had grit. You had the courage to face your challenges head on, the motivation and drive to commit to your goal, to do the work, to endure."
Edwards also called attention to the valuable traits that Wright State graduates possess.
"Time and again, you showed your adaptability. And you did it both in and out of the classroom. Employers, as well as graduate and professional schools, are desperate for graduates with the persistence and resilience you have demonstrated," said Edwards. "Communities are eager to harness your determination. You have shown to others that you would not be deterred from your goal no matter what life threw at you, including a global pandemic. But most of all, you have shown yourself just what you are truly capable of. Simply put, you are resilient."
Edwards left graduates with a simple request: to keep their sights firmly focused on the future they wish to create for themselves.
"Your path ahead has endless possibilities, endless doors to be opened," she said. "Identify your next challenge. Set new goals right now and start chasing them down. Know that you will make mistakes and that it is OK. Know that there is no such thing as perfect. Know that there is never the right time. Don't ever settle for status quo. Be adventurous, say yes to great opportunities when they present themselves. Have courage, embrace change. It is how we grow.
"Understand that you alone are responsible for creating your happiness, you have the capacity and power to choose your path," said Edwards. "To quote Jim Rohn 'If you find yourself in a job, place or situation you do not like, move, remember you are not a tree!' You are the master of your own destiny. You have all the characteristics that make Wright State Raiders truly special."
"Congratulations, spring class of 2022! You rock!" she said. "Go forth and be brilliant!"
The spring class of 2022 included graduates with 1,249 bachelor's degrees, 412 master's degrees, 27 doctoral degrees and 26 associate degrees.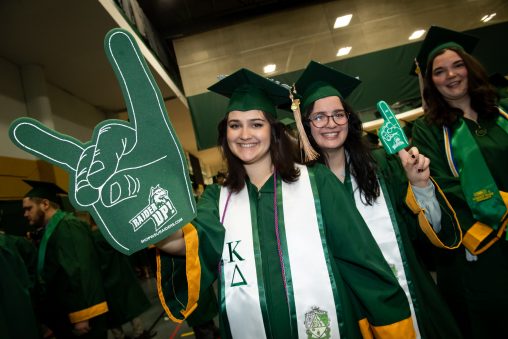 Graduates by college:
College of Engineering and Computer Science: 323
College of Health, Education and Human Services: 518
College of Liberal Arts: 276
College of Science and Mathematics: 261
Raj Soin College of Business: 229
Lake Campus: 53
Graduating students came from 27 states. The class included 91 international students from 23 countries. India boasted the largest number of international graduates with 39.
The three youngest graduating students are 19, with bachelor's degrees in elementary education, management information systems and organizational leadership. The oldest graduate was 73 and earned a master's degree in history.
Notable graduates from the class of 2022
Garrett Regan
Garrett Regan, who received his bachelor's degree in biomedical engineering, has been accepted into a Ph.D. program at the prestigious Mayo Clinic.
The Mayo Clinic is an academic medical center based in Rochester, Minnesota, that focuses on integrated health care, education and research. It has been ranked the No. 1 hospital by U.S. News and World Report and Newsweek magazine.
"It's certainly a tremendous honor to be accepted into such a selective program," said Regan. "This is a culmination of all of the work that I have done in my undergrad at Wright State and all of the people around me that have helped me to get where I'm at today."
Regan said he plans to rotate in Mayo Clinic labs that focus on applications of artificial intelligence in medicine, adding that the medical center is at the forefront of developing that technology.
Regan has been interning with Miamisburg-based Riverain Technologies, which develops computer software tools to enhance early disease detection.
He is vice president of and domestic project lead for the Wright State chapter of Engineers Without Borders, a student-led group that focuses on need-based engineering service projects. He is also a member of the Tau Beta Pi and the Alpha Lambda Delta honors societies.
Grace Beckman
Grace Beckman married two different passions, earning bachelor's degrees in mechanical engineering and stage management.
"I would like to keep doing theatre in some capacity after graduation just because truly there is nothing else like it," said Beckman. "But I have been looking into project management for engineering, either in the construction industry or something similar. I like putting moving pieces together."
In fact, Beckman recently accepted a job offer as an assistant project manager at Columbus-based Elford Inc., the largest locally owned central Ohio construction company.
Last fall, Beckman helped produce Wright State Theatre's production of "Mamma Mia!" in the Festival Playhouse in the Creative Arts Center.
She says the most gratifying part of stage management is experiencing the final product.
"It's hectic and sometimes things can slip your mind and you don't quite see it when you're in the rehearsal room even though you know something is going to be there," Beckman said. "But once you see it come together and it's all in front of you happening, it really makes you remember why you're doing it."
Caleb Matos
Caleb Matos, a cadet in the U.S. Army ROTC and soon to be commissioned as an officer, received his bachelor's degree in psychology. He hopes to eventually earn his master's degree in counseling.
However, after graduation, he has his sights set on becoming an Army Ranger, with plans to undergo armor training and then Ranger school at Fort Benning, Georgia.
The Rangers, who undergo grueling training, are elite airborne light infantry combat soldiers within the Army's Special Operations Command. They specialize in conducting raids and assault missions deep inside enemy territory.
Matos, who carried a 3.6 grade point average, said being in ROTC gave him extra incentive in the classroom and forced him to develop strong study and time management skills.
"If I got hurt tomorrow and I couldn't finish in the military, I know that ROTC would be a big reason why I'll be successful later," he said.