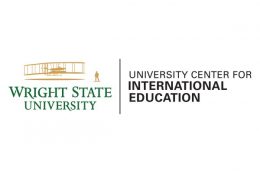 Wright State University students had the opportunity to study abroad without ever leaving home, through the Collaborative Online International Learning program (COIL).
Under the direction of the University Center for International Education (UCIE), COIL adds online international learning components to existing classes and connects Wright State students with international students studying in the same or a complementary discipline. The program usually lasts four to eight weeks and has three components, including ice-breaker activities to help students get to know and trust each other; a collaborative task; and reflection that helps students to transform their experience into new ways of thinking.
"The world is projected to be 96 percent connected through mobile technology by 2025 and jobs will cross borders because of remote work. The two groups of people most vulnerable to the new challenging employment situation are young people just entering the job market and jobs susceptible to being replaced by automation and artificial intelligence," said Michelle Streeter-Ferrari, director of the University Center for International Education
During the semester, Wright State students enrolled in a psychology course called Drugs and Behavior, taught by Michal J. Kraszpulski, Ph.D., and students from the University of Gdańsk in Poland who were enrolled in an American studies public speaking course discussed topics such as the legalization of marijuana use and whether or not the legal drinking age in the United States should be lowered from 21 to 18.
"It was beneficial for American students to be exposed to the point of view of Polish students and vice versa," said Kraszpulski, lecturer in the Department of Neuroscience, Cell Biology and Physiology and the Department of Psychology.
After the discussion, Wright State students wrote about their takeaways from the experience and how it influenced their perspectives.
Most of the students said that whether they had a change of heart on a topic or not, they felt that the collaboration was useful and that they were able to appreciate the perspective from their Polish counterparts' point of view.
Wright State psychology major Tyler Martindale, who participated in one of the groups discussing the drinking age, said that at end of the discussion they concluded that people are capable of seeking information out for themselves regarding safe drinking practices. However, the implementation of formal education programs concerning alcohol consumption could serve as a necessary precursor to lowering the drinking age from 21 to 18 years old.
"Having received a different perspective on the matter, my view has changed from being entirely opposing to lowering the drinking age to now accepting it as somewhat acceptable if a serious effort was made to educate adolescents about drinking," Martindale said.
"In my opinion, as well as all the other parties involved, our first run of the COIL program was a success. We will definitely repeat it next year, and hopefully for several more years," said Kraszpulski.
The COIL program will offer future opportunities for students, including a virtual global health course exchange with Muhimbili University of Health and Allied Health Science in Tanzania under the direction of Rosemary Eustace, Ph.D., professor of nursing; and an international business and marketing course exchange with Africa Nazarene University in Nairobi, Kenya, under the direction of Wakiuru Wamwara, Ph.D., associate professor of marketing.
Streeter-Ferrari said that COIL will also be used to give Wright State students participating in international study programs that involve travel an opportunity to learn more about the culture and language of the country, as well as a chance to meet the students they will work with before they travel.
UCIE will fund International Seed Grants during the 2022–2023 academic year to develop new COIL opportunities for Wright State students.
COIL was pioneered almost 15 years ago by the SUNY (State University of New York) COIL Center and was brought to Wright State in 2022 through grants from the Wright State University Foundation's Students First Fund.
The program has provided a means to allow students to continue to experience the benefits of international collaboration during the pandemic, as well as making international education more accessible, inclusive and equitable for all students.