By Sarah Cavendar
Brittney Whiteside '07, '12 has come full circle—from being a successful Wright State student-athlete to being an athletic administrator to serving as a Wright State trustee with a focus on sports and students.
Whiteside, a two-time Wright State graduate with a bachelor's degree in psychology and a master's degree in rehabilitation counseling, recently became vice president of collegiate partnerships at Altius Sports Partners.
Previously she was the executive associate athletics director at the University of Virginia in Charlottesville, during which time she was a member of UVA's athletic department executive leadership team, overseeing the external operations of corporate sponsorships, ticket sales, branding, marketing, licensing, and broadcast and strategic revenue generation. In addition, she served as the senior woman administrator with oversight of diversity, equity, and inclusion, and Title IX planning.
In previous years, Whiteside was senior associate athletics director at Appalachian State University and director of external engagement at the University of Missouri.
Aside from a busy professional life, Whiteside also serves on Wright State's Board of Trustees.
"I saw [serving as a trustee] as an opportunity to give back to my alma mater, which has given so much to me in terms of my growth and development as a young woman and it's just really helped me lay the foundation for where I am now," Whiteside said. "When I saw that opportunity, I knew I wanted to be in a position to serve the university and its students in a big way."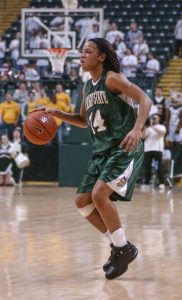 From 2003 to 2007, Whiteside was a guard on the Wright State women's basketball team and a four-year letter winner. She received several awards and accolades, including All-Horizon League honors, during her playing career.
"It's interesting, because wherever I go, I'm mostly an athlete," Whiteside said. "I'm a first-generation college graduate. So, for me, that experience of being a student-athlete, being on a campus for the first time, and then [being around] people like coaches and administrators…I knew that I wanted to give the same opportunity for other student-athletes in my role. Everywhere that I've been, I tried to look for those little opportunities to create programs and to create opportunities for us to grow."
After graduating in 2007, she signed with a basketball team in Germany and traveled the world for four years before sustaining a season-ending injury. She returned to Wright State to finish her master's.
"I started working in the athletic department at Wright State as a special assistant to the athletic director, and did that for a couple years. That kind of just started my path into college athletics," Whiteside said.
Brandon Hays, associate athletic director of external operations, said Whiteside is not just an all-around great leader but also a "jack of all trades."
"She could do everything from talking to donors to supporting student-athletes to just helping us get through our day," Hays said. "It's really cool to have one of our own and a former student-athlete on the board. She's served kind of as an advisor to athletics through the special committee on athletics that they [the Board of Trustees] put together. To know that we have a perspective like that connected to us and that she's incredibly influential in our industry, that's incredible to have her helping make those decisions."
In the last year Whiteside has been a part of a review of Wright State's athletic department. "It was really helpful to be able to pull in some of my experience in working in an athletic department and offering that up to the group," Whiteside said.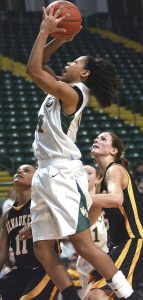 "A lot of what we do at Wright State and within the athletic department is done at a really high level and the student-athletes are competing at a high level," Whiteside said. "It's really great to see him [Bob Grant, director of athletics] being an alum and seeing men's basketball do well, women's basketball do well. It's just always exciting when you see Wright State represented at a high level and our student-athletes do well."
When asked what advice she would give current student-athletes, Whiteside emphasized the importance of using the skills they developed on the field or court and applying those to life.
"I would tell them to use all of the skills that they learned as a student-athlete in their career and in their life, because I believe that all of the things that you learn as a student-athlete—teamwork, discipline, work ethic—help propel you through life," she said. "I would not discredit those skills that you learned just in competing and being an athlete, and use those to really propel you through life in general."
This article was originally published in the fall 2022 issue of the Wright State Magazine. Find more stories at wright.edu/magazine.