Time was cheap beer and rock bands went together like peanut butter and jelly. More contemporarily, craft beer and symphonic bands may have supplanted the former as the new norm.
The Wright State University School of Fine and Performing Arts held a fundraiser on Sept. 14 at the Wandering Griffin Brewery & Pub in Beavercreek to benefit the Wright State Bands — Wind Symphony, Symphonic (Concert) Band, Varsity Pep Band and Jazz Ensemble.
The Wright State Bands did not showcase an in-person concert for nearly two years due to the Covid-19 outbreak, said Shelley Jagow, Ph.D., professor of music and director of bands at Wright State.
It was following a concert this summer after the two-year hiatus that Jagow and some of her students celebrate afterhours at the Wandering Griffin. While there, Jagow met owner and brewer David Jennings and after having a discussion, the pair decided to collaborate in the beer-brewing process to develop their own unique concoction.
"I began a conversation with David Jennings, the brewmaster, who approached me as I think he thought I was everyone's 'mom' at first," said Jagow. "We talked about food, music, teaching/coaching, family and craft beer — all things I love. He invited me to make a beer with him so I could learn more about the process and then he would make a donation to a charity of my choice. So of course, I wanted our Wright State Bands to be the beneficiary."
As part of the brewing process, Jagow stirred grains and added hops and yeast at various times over the course of several weeks last summer before adding Saskatoon berries from her native Saskatchewan to the wheat beer. The end result was Prairie Berry Blast!, a Canadian Saskatoon berry Weiss bier. The brew proved so popular that it remained on the menu for little more than a week before the keg was tapped out.
"I thoroughly enjoyed the process of making craft beer, and I can assure you that I drink every pint now with a greater reverence," Jagow said.
Jennings said that once he discovered how avid Jagow was about craft beer, he suggested they get together to come up with a special beer to help support the band programs.
"The university has many areas that we can help support through these collaborations, and we look forward to not just working with WSU Bands but other groups and programs that might be interested in the future," said Jennings.
All of the Wandering Griffin's beers are produced on site using a seven-barrel brew system capable of producing 220 gallons of beer every time they brew.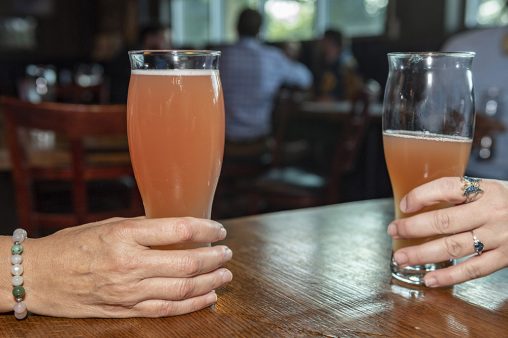 So is Jagow ready to give up her day job and turn to brewing full time?
"I've always joked that when I retire that I was going to start my own brewery and pair flights of beer with cupcakes," said Jagow, who has taught at Wright State for 25 years. "But to be honest, I truly do not think I am smart enough to be a brewer — too much science and mathematics involved. So I think I will remain a consumer versus a producer."
Proceeds from the sale of Jagow's beer will be used to purchase repertoire for the bands to perform free public concerts held in Schuster Hall in the Creative Arts Center.
While she believes this may have been a one-time fundraising event, Jagow is open to future events with the Wandering Griffin or any other community business that is interested in supporting the performing arts.
Jagow said the Wright State Band program is generating some of the finest music educators in the community and continues to serve the university by providing both a creative and collaborative opportunity for Wright State students to come together and make music.
Chris Lynch, a junior majoring in music education and tuba performance, serves as the principal tubist of the Wind Symphony. As a student at Wright State, he has had numerous opportunities for growth as a musician, leader, educator and as a person.
"Performing is incredibly important to me because it is the culmination of dozens, and possibly hundreds of hours of hard work, it is a form of self and group expression and it is a wonderful medium in which we as musicians can share beautiful works of art with the masses," said Lynch.