Lance Greene, Ph.D., professor of anthropology at Wright State University, was named a finalist for the Thomas Wolfe Memorial Literary Award for his 2022 book, "Their Determination to Remain: A Cherokee Community's Resistance to the Trail of Tears in North Carolina."
Presented annually by the Western North Carolina Historical Association, the Thomas Wolfe Memorial Literary Award honors printed works that focus special attention on Western North Carolina. The winner of the award will be announced on Dec. 13 at an award ceremony, during which all five finalists will be honored.
In "Their Determination to Remain," Greene explores the complexities of race and gender in the antebellum South and the real impacts of racism.
The book tells the story of a community of Cherokees in the mountains of North Carolina who avoided forced relocation by the U.S. government in the 1830s. Greene details the efforts of two plantation owners, Betty and John Welch, who helped the Cherokee avoid removal and provided land for them to build a new community.
For more than 15 years after the Trail of Tears, the diverse community of Cherokees and whites operated publicly as a Southern plantation and secretly as a traditional Cherokee town.
Members of Welch's Town experienced a transitional period in which they had no formal tribal government or clear citizenship yet felt secure enough to reestablish a townhouse, stickball fields and dance grounds, all in the midst of a growing white population who resented a continued Cherokee presence.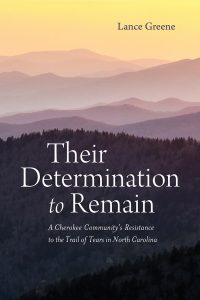 Incorporating historical narrative and archaeological data, Greene's book details how Betty, who was white, outwardly participated in modern Western lifestyles, while John, who was Cherokee, maintained a hidden space for the continuation of traditional Cherokee cultural practices. They also held in bondage nine African Americans.
"Their Determination to Remain" also includes a fictional narrative of events on the Welch plantation. Using historic documents and archaeological data, Greene provides an intimate view of the people who interacted on the plantation in the years following removal and how they adapted to their new social environment.
A historical archaeologist, Greene focuses his research interests on marginalized groups — American Indians, women, minorities, the poor and the institutionalized—in the United States during the 18th and 19th centuries.
He serves as director of the Field School in Archeology, which offers Wright State students an opportunity to conduct archaeological field research at sites in Southwest Ohio over the summer semester.
He is also co-editor of "American Indians and the Market Economy, 1775–1850."
Greene received this Ph.D. in anthropology from the University of North Carolina at Chapel Hill and his master's degree in anthropology and bachelor's degree in anthropology from the University of Tennessee, Knoxville.