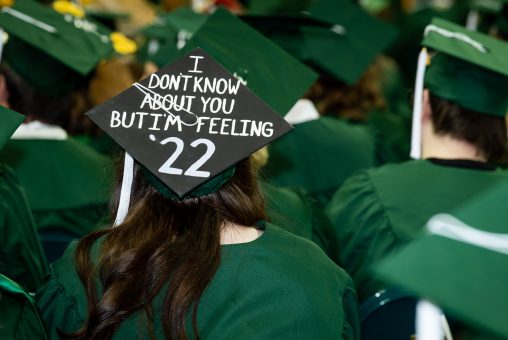 More than 1,150 graduating students and their families celebrated the culmination of their education at Wright State University's fall commencement ceremonies on Dec. 9 and 10 at the Wright State Nutter Center.
The 1,157 graduates joined more than 120,000 alumni who are making a difference throughout Raider Country, all over Ohio, across the nation and around the world.
The ceremonies included a brief video message from Gov. Mike DeWine, who said, "The state of Ohio and the Dayton region need Wright State graduates like you. We succeed when you succeed."
Wright State University President Sue Edwards, Ph.D., addressed the fall and summer classes of 2022, urging students, family and friends to savor the accomplishment of earning a college degree and to drive toward their next adventure.
View photos from the fall commencement ceremonies >>
"The greatest reward for all your hard work is how you feel deep down inside right now. That sense of accomplishment of making it to the finish line, having earned your college degree," said Edwards. "You have faced your challenges and clearly triumphed to get to this point, though you did not do it alone. I know many of you are mindful of that."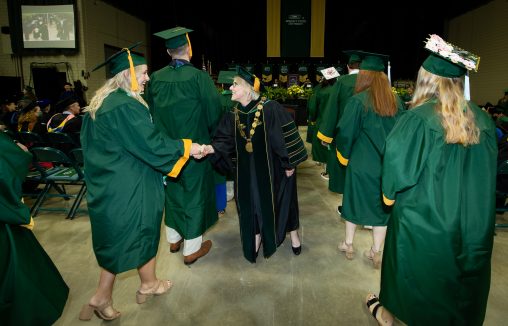 Edwards reminded graduates to keep grace and gratitude for those who helped them along the way at the forefront of their celebrations.
"You no doubt had help and encouragement from people who care deeply for you. Help from family, friends, faculty, staff and mentors who have supported you along the way," said Edwards. "I encourage you to savor your successes today, but more importantly, please consider the people who have supported you and helped you do it. Gratitude that acknowledges those who have invested in you, believed in you and given so much for and to you."
She also urged graduates to fully embrace the empowerment of a college degree by sharing a sentiment conveyed by famed poet Maya Angelou.
"On this commencement day you have set your path. You are moving forward. And your path ahead has endless possibilities. Always remember you are in control of your own destiny and happiness, as Maya Angelo said "'If you don't like something change it. If you can't change it, change your attitude,'" said Edwards.
"So today set your sights on the future. Visualize where you are going and make a plan for turning that into reality. And show the world what Wright State Raiders are truly made of!"
The summer and fall classes of 2022 included graduates with 616 bachelor's degrees, 443 master's degrees, 40 doctoral degrees and 23 associate degrees.
The classes featured 184 international students from 19 different countries. India boasts the largest number of international graduates, with 146.
The youngest graduating student was 18, earning a bachelor's degree in English. The oldest graduate was 61, earning a bachelor's degree in organizational leadership.
Graduates by college:
College of Engineering and Computer Science: 254
College of Health, Education and Human Services: 258
College of Liberal Arts: 126
College of Science and Mathematics: 156
Raj Soin College of Business: 227
Lake Campus: 43
Boonshoft School of Medicine: 54
Notable 2022 graduates
Danita Sani
Danita Sani will graduate with her bachelor's degree in human resource management from the Raj Soin College of Business. Sani originally began her educational journey at Wright State in the mid-1990s as an engineering student. Unfortunately, other commitments forced her to put her aspirations on hold.
When she returned, she was a part of the first wave of students in the Wright State Business Degree Completion Program offered by the Raj Soin College of Business.
The novel initiative is aimed at Miami Valley residents between the ages of 25 and 45 who already have completed a minimum of 60 semester credit hours — with some credit hours in business — and want to return to college to complete a bachelor's degree in business.
Sani, who returned to Wright State at age 45, has spent the last 25 years working as a seasonal human resources specialist for Victoria's Secret.
She was encouraged by her sister to return to Wright State and felt that it was important to prove to herself and others that it is never too late to pursue a college degree.
She eventually plans to pursue a Master of Business Administration.
Jonathan Mohr
Jonathan Mohr will receive his bachelor's degree in management information systems from the Raj Soin College of Business, but he has also made a name for himself among Wright State's film majors as a musical composer.
Mohr started composing music seriously in 2016 and composing for short films in 2019. He began working with Wright State students after approaching a student director who was in the Wright State Actors and Filmmakers Group and offering his composing services.
Student productions he has composed for include, "And Be Happy" directed by Brendan Borden, "Drown" by Benjamin Hollinger, "Conveyor" and "Pitch Black" by Joey Larkin, "More Than Words" by Nathan Schubert and "Normal Norman" by Derek Szklany.
In addition to composing film scores for Wright State students, Mohr has composed for companies such as Amadea Music Productions, a U.K.-based company specializing in creating music and sound effects for film, television and video games.
Many of Mohr's film scores are available on his YouTube channel.
Abigail Halsey
In December, Abigail Halsey will graduate from Wright State for the second time, with a master's degree in physical education from the College of Health, Education and Human Services. In 2020 she received a bachelor's degree in sports science, with a concentration in sports medicine.
In addition to her studies, Halsey is a member of Wright State's women's track and field and cross-country teams.
It was her lifelong love of sports and athletics, as well as believing that they can be an important part of development for young people, that inspired her desire to make sure that children of all abilities were able to access their benefits.
During the course of her master's program, Halsey developed an eight-week neuromuscular exercise program for children with autism with the goal of furthering research as to its effect on the stereotypical behaviors associated with autism.
Halsey intends to get her doctorate in occupational therapy at Northern Kentucky University, where she will continue her research.
She would like to continue working with children in an educational setting and aspires to design and open a gym for children with disabilities.
Emily Winkelman
Emily Winkelman will graduate this fall with a bachelor's degree in women, gender and sexuality studies from the College of Liberal Arts. Originally an environmental studies major, she said she changed her major because she felt, as a queer person, it was important to her to find a way to serve her community.
During her time at Wright State, Winkelman served as president and public relations director for Rainbow Alliance, a student organization that strives to foster an inclusive, intersectional and diverse environment in the LGBTQIA+ community as well as involve and educate the Wright State community.
As president of the Rainbow Alliance, Winkelman said she was proud to be a part of organizing events that provided greater visibility and inclusivity for the LGBTQIA+ community.
She was also the host of "Rainbow Remedy," a radio program that featured music by queer artists or queer allies and talked about LGBTQ issues. She has also interned at the LBGT Center of Greater Dayton.
Winkelman said she hopes to continue serving the LGBTQIA+ community beyond Wright State and she has already begun to do that. She was active in organizing a Pride event in her hometown of Hillsboro, Ohio.