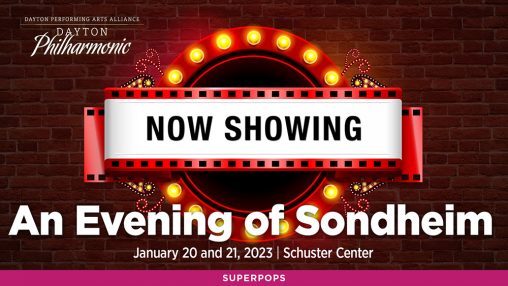 Wright State University musical theatre students will perform with the Dayton Philharmonic Orchestra at the Schuster Center during "An Evening of Sondheim." Students from Wright State's choral music program will also be a special part of the concert.
Performances take place Friday, Jan. 20, and Saturday, Jan. 21, at 7:30 p.m. at the Schuster Center's Mead Theatre in downtown Dayton.
Tickets can be purchased at daytonperformingarts.org/ticket/sondheim or by calling 937-228-3630.
"An Evening of Sondheim" will feature junior and senior musical theatre majors and a combined School of Fine and Performing Arts Chorale of more than 100 voices, directed by Nathan Nagir, D.M.A., director of choral studies at Wright State.
The concert is conducted by Patrick Reynolds, associate conductor of the Dayton Philharmonic, with stage direction by Joe Deer, distinguished professor of musical theatre, and Greg Hellems, head of musical theatre, and musical preparation by F. Wade Russo, instructor of musical theatre, and Matt Ebright, staff music director.
The concert will include familiar Sondheim hits such as "Send In The Clowns" and "Children Will Listen", as well as works lesser-known pieces from shows including "Saturday Night," "Pacific Overtures" and others.
When the Dayton Performing Arts Alliance's Neal Gittleman, conductor of the Dayton Philharmonic, and Kathleen Clawson, artistic director of the Dayton Opera, approached Deer about collaborating on a shared musical evening, focusing on Sondheim's work was a natural choice.
Sondheim has been hailed as the defining voice of contemporary musical theatre and the most influential composer-lyricist of the last half of the 20th century.
"The concert will offer audiences a journey into what made his work so witty, musically adventurous and emotionally rich," Deer said. "It brings together two Dayton cultural institutions in a new way and provides audiences a chance to hear this music played by one of the region's finest orchestras and students a chance to perform with them."