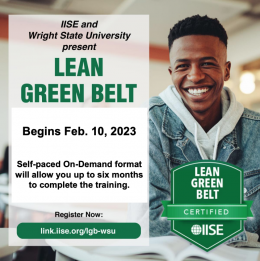 Wright State University's Institute of Industrial and Systems Engineers student chapter will offer on-demand IISE Lean Green Belt training beginning Feb. 10. This on-demand format will allow students flexibility to complete the course at their own pace during the next six months.
This is the "sister" event to the IISE Six Sigma Green Belt training offered in previous years.
After completing the course, participants will be able to create and improve a lean process, implement 5S to develop a safe, clean working environment, map the process flow and identify activities that add value, reduce setup time using the SMED process and take the certification exam.
"Lean Green Belt training and certification will set students and professionals apart from their peers when job seeking and will provide the tools needed to allow them to make a positive impact on whatever organization or company they serve," said Robert Myers, Ph.D., an instructor of biomedical, industrial and human factors engineering at Wright State.
This series of interactive simulations will demonstrate how each lean concept is applied and its impact on the process. Mapping the process flow and identifying the activities that add value from the customer's perspective is the cornerstone of the class. Students will be presented with a scenario and will simulate the conversion from traditional to lean in an on-line environment.
The course also provides a structure for how to manage a lean process for continuous improvement. Participants will also learn how to implement 5S in their plants and how to begin reducing setup time using the SMED process.
The course costs $500 for students and $800 for professionals and alumni. Students may register at iise.org/LeanGreenBelt/Fall2022/WrightSt.
Professionals and alumni should contact Myers at robert.a.myers@wright.edu.