Excerpt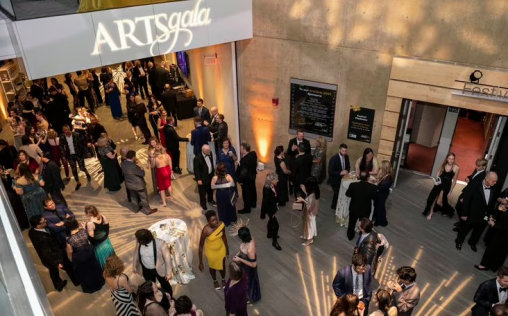 The 24th annual ArtsGala at Wright State University slated Saturday, April 1 will showcase something for every art lover.
"We have musicians, dancers, artists creating live art," said Rebecca Foley, art gallery and events coordinator for the College of Liberal Arts. "The whole building is just filled with art happening."
Across the 12 new and unique performances, over 400 Wright State students will be involved in putting on shows across the arts realm. The night will showcase orchestra, dance, vocal, and live art creation performances among others.
Features this year include:
Orchestra and Percussion Ensemble performances
Bella Voce!: a celebration of opera and song
"En blanc et noir": Student performances of chamber music and solo selections
Burt Bacharach Celebration: A song and dance revue of Bacharach's hits
The Dance Experience: featuring original student choreography
"The Mystery of Twicknam Vicarage": A murder mystery experience by David Ives
Planet MoPix Attacks!: A throwback special FX sequence that honors the 1950s science fiction
"Ring of Fire": A musical revue highlighting the music of Johnny Cash
Selections from Wright State Theatre's production of "On the Town"
Top-quality wine, craft beer and bourbon
Sports lounge
"Depending on what you like as an audience member, you're going to find something that will entertain you," Foley said. "There's just something for any art lover. There's going to be something that will entertain you and excite you."
Foley stepped into her role at the university a few months ago. She said she has been very busy arranging her first ArtsGala as coordinator but considers herself lucky to be a part of such a valued event with a long tradition at Wright State. It's those traditions that have helped her transition into her new role along with assistance from event staff.
While Foley said the evening is packed with performances, she also emphasized the importance of the event's fundraising efforts for student arts scholarships.
"It's a very entertaining evening as well as a celebration of the students and also an opportunity for us to raise funds for them," Foley said. "So people can come in and just enjoy the performances, but it's really for that very special cause of supporting our students."
Zavi Odetta, a fifth-year acting major at WSU, was the recipient of two of the scholarships funded by the ArtsGala. They performed "Come Woo Me, Woo Me," an adaptation of a Shakespeare play, with classmates at last year's gala.
"Receiving this scholarship means more than you know," Odetta said. "After spending five years here, I heavily relied on any and every scholarship I could get. Being the recipient of not one but two ArtsGala Scholarships granted me the opportunity to continue studying the subjects that bring me the most joy."
This time around, the students will perform a whodunit called "The Mystery at Twicknam Vicarage" they said is "guaranteed to make you laugh until your sides hurt." Odetta said they are thrilled to be apart of the event again. They said it means a lot to be able to pay forward the educational opportunities the ArtsGala scholarships gave them.
"It gave me the opportunity to complete my final year here at Wright State, and it allows me to give back to a community that has given so much to me," Odetta said. "I am so excited to be participating in ArtsGala for a second year. To be able to meet and thank our donors before I graduate is one of the biggest gifts I could ask for!"
Selvin Bacon, a senior fine arts major, was an event photographer for the gala in 2022, and this year he'll be volunteering as a gallery monitor. He said he hopes to network with Dayton community members who are invested in the arts.
"I hope that they're able to enjoy this event and (be) able to communicate and talk to students considering students are the main reason (for) this event," Bacon said. "I just want to encourage people that attend to network with students considering it's also ideal for students to talk to these people considering they know a thing or two about the arts."
Bacon received a scholarship from the event that help support his perusal of a degree. He recognized there can be stigmas around arts degrees, but Bacon said the ArtsGala helped him realize people in the Dayton community care about the arts.
"Knowing that there's people that support the arts is very enlightening," Bacon said. "I just feel very grateful that people do want to see us succeed, and it encourages me to push beyond. One of the most reasons why I became heavily involved in this is so I could give back to the community the same way the community has given back to me."
Tickets for the ArtsGala are still available to purchase and ticket sales contribute to supporting student scholarships for fine and preforming arts. Direct donations can also be made toward the fundraiser, and both attendees and non-attendees can participate in a silent auction to support the event.
HOW TO GO
What: Wright State University ArtsGala
When: Saturday, April 1 from 7 p.m. to midnight
Where: Wright State University Creative Arts Center located at 3640 Colonel Glenn Highway, Fairborn
Cost: Tickets are tiered, with patron level priced at $300, distinguished patron priced at $400 and grand patron priced at $550.
More Information: Visit https://www.wright.edu/artsgala for more information, to purchase tickets, make a donation or bid in the silent auction.
View the original story on Dayton.com