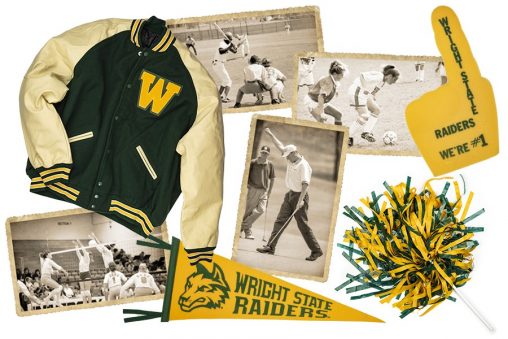 By Alan Hieber '16
Men's basketball had its maiden season in 1970–71. The Raiders were coached by John Ross over the initial five years of the program, including two respectable 17-win campaigns.
The Marcus Jackson coaching era began in the 1975–76 season with a bang. In Jackson's first year, the team won 20 games and made its first appearance in the NCAA Division II tournament. Jackson would win 11 and 14 games through the next two seasons before Ralph Underhill was hired in 1978–79.
Underhill's tenure proved to live up to Wright State's golden school color. The Raiders became a perennial Division II contender, reaching the NCAA tournament in four consecutive seasons. The rise to prominence set up a magical year in 1982–83.
Halfway through the season, Wright State faced off against rival Kentucky Wesleyan. The Raiders trailed by one point and had possession with seconds remaining. The ball eventually worked its way to guard Tom Holzapfel, who took a shot from the left elbow. It hit the right side of the rim and bounced toward the baseline. Guard Mike Grote had gained rebound positioning there, but he was falling down. All Grote could do was throw up a prayer of a shot that miraculously hit every side of the rim and rolled in. It's known as the Raider version of "The Shot."
"We never had a bad game after that win," said Jim Brown, former Wright State assistant coach and current radio color commentator.
With the combination of Holzapfel, Grote, 6-foot-3 guard Fred Moore, and 6-8 forward Gary Monroe, the Raiders went undefeated during their remaining Division II slate, making it all the way to the national title game—a landslide 92-73 victory over District of Columbia.
"We all got along," Holzapfel said. "Nobody cared who scored points, and there was no jealousy or friction. It was just a great group of guys, and we all clicked. If you want to be a champion, that's what it takes."
Wright State followed the seminal championship with two more NCAA bids. The momentum helped spur the team's arrival to NCAA Division I in 1987–88. Amid the success, it's no surprise that the team's home court, the PE Building Gym, was consistently selling out. The need for space was a key factor in the construction of the significantly larger Nutter Center in 1990.
The 1990–91 season was the first one for Bill Edwards, who holds the men's program scoring record of 2,303 points to this day. During Edwards' senior campaign of 1992–93, the Raiders won the conference tournament, leading to Wright State's first ticket punched to the NCAA Division I tournament.
The remainder of the 1990s was quiet in comparison. Wright State would only win 14 games at most to wrap up the decade. Vitaly Potapenko's big presence was noteworthy during this span, however, as he became a member of Wright State's 1,000-point and 500-rebound clubs and the Raiders' first NBA draft pick.
The first six seasons of the 2000s saw Wright State remain competitive, but the team didn't make it far in the conference tournament. That all began to change under coach Brad Brownell and standout guard DeShaun Wood. The 2006–07 Raiders went 23-10. Fans stormed the court at the Nutter Center after a 60-55 win over a nationally ranked Butler squad, giving Wright State its second NCAA berth.
Brownell departed for Clemson and was succeeded by Billy Donlon. Donlon's teams were constantly on the brink of the NCAA tournament, advancing to the Horizon League title game on four occasions during his nine-year tenure. Key players on those teams included 1,000-point scorers guard Reggie Arceneaux (2011–15) and forward JT Yoho (2012–16).
Current Raider head coach Scott Nagy took the mantle beginning in the 2016–17 campaign. There has been an abundance of talent on his squads. Sharpshooting guard Grant Benzinger (2014–18), center Loudon Love (2017–21), guard Tanner Holden (2019–22), and forward Grant Basile. Each reached the prestigious 1,000-point plateau. Love also recorded the most rebounds in school history (1,123).
The Raiders have worn Horizon League championship rings twice and earned corresponding NCAA tournament bids in 2017–18 and 2021–22. Last year's appearance included a victory over Bryant 93-82 in the First Four. Wright State's first-ever NCAA tournament victory heightened the hopeful aspirations for the program's future.
The inaugural season for the women's basketball team was 1973–74. Through the 1978–79 season, the team didn't win more than 10 games, but a turnaround started when guard Jodi Martin arrived in the fall of 1979. She tallied 2,055 points in her career, which held up as the school record until the torch was passed in 2015 to guard Kim Demmings. The win total rose to 17 when Martin was a first-year student-athlete, and was above 10 twice more through the end of her Raider career in 1983. Wright State would win at least 16 games during its last four seasons as a Division II program, culminating in a 24-6 campaign and a run to the NCAA tournament in 1986–87.
There was a dry spell during the first few decades in Division I. Through the 2009–10 season, Wright State had a winning record twice. Despite this, 11 of the university's all-time leading scorers would take to the court during this era. Each of those players, including guard LaShawna Thomas (2007–11), forward Reggen Stewart (1997–01), and Lori Collins (1991–94), are all members of the Wright State 1,000-point club.
Mike Bradbury took over as head coach for the 2010–11 season and soon ushered in a near-dynastic run of success. In his first year, the Raiders posted a 20-13 record and won a postseason tournament game. The following season's team was full of offensive weapons with Demmings, guards Abby Jump and Courtney Boyd, and forward Breanna Stucke. They would go 21-13 and win another postseason tournament game.
After a 12-18 mark in 2012–13, a dream team formed. In addition to the offensive threats listed above, the 2013–14 squad added defensive prowess with 6-foot forward Tayler Stanton and Rochelle van der Keijl, a 6-5 center from the Netherlands. Wright State cruised to a 26-9 overall record and crushed rival Green Bay 88-69 to capture the Horizon League tournament crown and the program's first-ever NCAA Division I tournament berth.
"It's always amazing to say you were the first to do something. I felt super proud that all my coaching staff and teammates' hard work over the season paid off," Demmings said. "The feeling of completing something that you set out to do is indescribable."
The 2014–15 season appeared to be in jeopardy when Demmings sustained a season-ending injury. However, plenty of the role players from the previous season stepped forward. This was most notable with senior guard Tay'ler Mingo, who averaged 22.8 points per game and was named Horizon League Player of the Year. She would go on to play pro basketball in Spain. After a 25-9 campaign, the Raiders fell short of a second NCAA tournament berth but made the WNIT tournament.
In 2015–16, Demmings returned and would officially surpass Martin as the all-time Wright State scoring leader, finishing her career with 2,677 points. That team would go on to the WNIT once again. Bradbury and van der Keijl departed for New Mexico the following season, opening the door for assistant coach Katrina Merriweather to move up.
Newer faces made Merriweather's team just as formidable. Guards Emily Vogelpohl, Mackenzie Taylor, Chelsea Welch, and Symone Simmons gave the offense plenty of flair. The next two seasons saw the Raiders pick up two more WNIT bids. Following the arrival of standout guard Angel Baker in 2018–19, Wright State made its second NCAA tournament appearance.
A 19-12 season in 2019–20 followed, but 2020–21 was literally a banner year. Though 19-8 in the regular season, the Raiders reached the mountain top yet again—the NCAA tournament. The third time was certainly a charm as Wright State stunned Southeastern Conference opponent Arkansas 66-62 for a historic first-ever win in the big dance. Merriweather would go on to accept the head coaching position at Memphis, but she left an indelible mark.
Wright State has been a lot more than a basketball school throughout its 55-year history of sports. Including programs no longer competing, there have been 19 total. Women's bowling and men's track and field are new additions.
Over 60 regular season and conference titles have been captured. With this success, additional facilities have been built, such as the 30,000-square-foot Mills-Morgan Center/Setzer Pavilion for practices, strength and conditioning, player lounges, and coaching offices. Nischwitz Stadium opened for baseball in 2000.
Baseball has long been a top-notch university program. A total of 41 Wright State players have been selected in the MLB draft. Pitcher Joe Smith was drafted by the New York Mets in 2006 and has been a consistent veteran relief pitcher on several major league rosters. Catcher Sean Murphy became a fixture for the Oakland A's organization after being drafted in 2016, then was traded to the Atlanta Braves during the 2022 offseason. Between Divisions I and II, the team has made a trip to the NCAA tournament 20 times.
Another point of pride for Wright State athletics has been its academic success. Raider athletes have often achieved NCAA Athlete Progress Rate (APR) above the national average. To support this academic legacy, Demmings recently returned to the university this time as an academic advisor for athletics.
"I enjoy being able to help student-athletes who are in the same position I was in. Seeing them cross the finish line is rewarding," Demmings said.
Bob Grant has been the university's athletic director since 2008. After being hired, Grant immediately instituted his P.S.A. philosophy, which means to focus on the person first, the student second, and athlete third. Particularly in the last few years, this has appeared to be a winning formula.
"I think by any measure, Wright State athletics is as strong as it's ever been," Grant said. "The last four years have provided unprecedented success, academically and athletically. Volleyball was our 13th team to make the NCAAs since 2018. In the previous 30-plus years of Division I, we only had 12 teams make it, so we are rolling. Ironically those best four years in our history have coincided with a pandemic and all kinds of other extraordinarily difficult headwinds."
The line, "Great deeds old inspire the new," from Wright State's Alma Mater seems to be ringing true. The blossoming program has a wealth of past achievements and could experience an even more bountiful modern era.
This article was originally published in the spring 2023 issue of the Wright State Magazine. Read more stories at wright.edu/magazine.