Every former student-athlete has a story.
For some, their success in intercollegiate sports launched professional careers and the fulfillment of childhood dreams. For others, their days of Raider competition and camaraderie are cherished memories from a time long before they went on to accomplished careers outside of sports. And then there are those student-athletes whose days of competition came to a crashing halt when a painful injury ended it all.
However their Wright State journey started and ended, the Raider family of student-athletes continues to make its mark throughout the Dayton region, Ohio, and beyond.
Four former Raiders share how they're making an impact in the world today.
Joe Smith
Former Major League Baseball star is on a crusade to end Huntington's disease
When it comes to former Wright State baseball players, Joe Smith is undoubtedly one of the most successful. The right-handed sidearm pitcher has played for the New York Mets, Cleveland Indians, Los Angeles Angels, Chicago Cubs, Toronto Blue Jays, Houston Astros, Seattle Mariners, and Minnesota Twins.
While pitching in the 2019 World Series for the Astros may be the highlight of his Major League Baseball career, Smith's greatest legacy will likely be far away from a pitcher's mound.
Smith and his wife, TNT sports reporter Allie LaForce, created the HelpCureHD Foundation with the goal of ending Huntington's disease (HD), one family at a time. For the sports power couple, it is a personal mission that hits extremely close to home.
Smith lost his mother and maternal grandmother to HD, a fatal genetic disorder that causes the progressive breakdown of nerve cells in the brain. The disease—for which there is currently no cure—robs a person of their physical and mental abilities.
"It's devastating for the person going through it," said Smith. "The disease progresses and just cripples and takes away your life."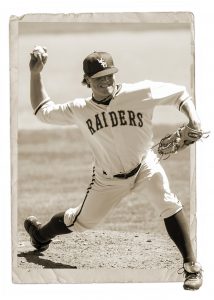 HD also wreaks devastation on the entire family. Smith's mother, Lee Smith, had to be admitted to a long-term care facility at age 59. She passed away in August 2020, just before her 62nd birthday.
Smith and LaForce say they are determined to do all they can to prevent other families from enduring the pain and heartbreak of losing a loved one to HD. Through their foundation, they have awarded nearly 130 grants to help families undergo in vitro fertilization (IVF) with genetic testing so HD is not passed along to the next generation.
"Once you have a child without Huntington's, it stops in your family line," said Smith, who has a 50/50 chance of inheriting HD. "I just want it out of the world. I don't want anybody to go through it."
Without assistance from HelpCureHD, IVF is a cost-prohibitive process many families cannot afford. Each round of IVF can cost anywhere from $35,000–40,000, and most insurance plans do not cover it.
Along with creating a financial burden for families, IVF can take an emotional toll as well.
"It's tough. It's a long journey," said Smith, who has stood by LaForce's side during three rounds of IVF. In November 2022, Smith and LaForce finally welcomed their own HD-free bundle of joy, Jacob Michael Smith.
As LaForce announced baby Jacob's birth and shared his first photos with the world on her Instagram account, her words said it best: "Life is complete."
To learn more about the HelpCureHD Foundation, visit helpcurehd.org.
Winston Marshall '05
Former Wright State soccer star dreams of being on the big screen
While soccer may have been Winston Marshall's first love, scoring goals was not his only dream in life.
Born and raised in Toronto, Marshall had always been interested in acting. But as Marshall's time became more consumed with soccer, acting aspirations were put on the back burner.
Marshall became so skilled at soccer that he was recruited by both the Canadian youth national soccer team and Wright State. And he was disciplined enough to play for both.
Marshall's freshman year at Wright State became a delicate balancing act between school, soccer, and travel. In between his Wright State classes and soccer matches, Marshall would play with his Canadian teammates in such faraway places as Ireland or Germany.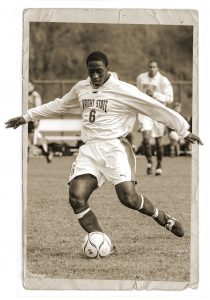 As busy as he was, Marshall even managed to earn Horizon League Player of the Week in a win against the University of Illinois Chicago.
"It made me believe that I could play at the highest of levels in the Horizon League and in college soccer," he said.
Marshall was the first Wright State player drafted by a Major League Soccer team. But when he was first approached by FC Dallas, Marshall was torn between whether he should play professionally or stay in school and graduate.
He chose the latter.
"It was so important to my parents and myself that I graduated and earned a degree," explained Marshall, who earned a bachelor's degree in marketing. "I got to finish school, make my parents proud, and then go to Dallas."
Marshall played for FC Dallas for one season. It was a short-lived professional soccer career as Marshall already knew what he wanted the next chapter of his life to be—acting.
"I had never even intended to go pro," he said. "But I gave it a try, and I can always say I did it."
Marshall began taking acting classes while in Dallas. At an acting workshop, he met Fran Bascom, a casting director for the daytime drama Days of Our Lives. Impressed with Marshall's acting chops, Bascom offered to help him get work once he moved to Los Angeles.
"True to her word, she gave me my first-ever television role," said Marshall, who landed a small recurring role on Days of Our Lives.
Marshall also appeared on the daytime drama The Bold and the Beautiful and in the television series Covert Affairs and Nikita.
Like most working actors, Marshall's career came to a standstill during the COVID-19 pandemic. While a feature film project was canceled, he is now back to auditioning and looking for the next opportunity to come his way.
He recently did some promotional modeling for the Fabletics men's line, and he appeared in commercials for ASICS and Comcast. His ultimate goal is to work in feature films.
To persevere in an industry known for rejection and heartbreak, Marshall relies on the life skills he learned as a Raider and professional athlete.
"Sports is the best metaphor for life—learning discipline, organization, and teamwork," he explained. "My four years at Wright State changed my life. I grew from a boy into a man. I feel that whatever challenge comes my way, I'll always have that to fall back on."
Amanda Thompson '08, '09
After a successful stint at NASA, one former Raider is back making a difference in the Miami Valley
When Amanda Thompson received an athletic scholarship to Wright State, she thought she would be making history as a member of the first Raiders team to compete in women's pole vaulting.
But a knee injury ended Thompson's collegiate career before it could even begin.
While Thompson had to redshirt her freshman year, she still attended practices and traveled with the team to competitions. She even got back into shape, but her knee was too compromised.
"Competing at that level was going to be extremely hard on my body," she recalled. "I don't look back on it as a negative thing; people get injured. I was just grateful that the coach let me stay on and help the other women train."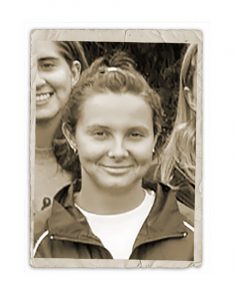 Even though her plans to compete were sidelined, Thompson immersed herself into all Wright State had to offer. She was active in student government, worked at the Wright State bookstore and in a lab on campus, and studied abroad.
"I had a wonderful Wright State experience," said Thompson.
After earning a bachelor's degree in business management and an M.B.A., Thompson was recruited for a contracts management position at Wright-Patterson Air Force Base.
When one of Thompson's mentors—the director of acquisitions at NASA's Jet Propulsion Laboratory in Pasadena—suggested she come to California to work on projects at NASA, Thompson and her husband, fellow Wright State graduate David Toller '06, headed west.
As a senior subcontracts manager, Thompson had the opportunity to collaborate with scientists and engineers on the Europa Clipper. Scheduled to launch in October 2024, NASA's Europa Clipper will conduct detailed reconnaissance of one of Jupiter's moons, Europa.
While Thompson found her work at NASA to be both fulfilling and interesting, she returned to Dayton four years ago to join JJR Solutions, a management consulting and IT solutions company owned by 1988 Wright State graduate David Judson Jr.
As vice president of growth services, Thompson says she enjoys the opportunity to help shape a newer organization. She is proud of JJR's work with its government clients and especially proud of the company's commitment to giving back to the community. To date, JJR Solutions has donated more than $1 million to local organizations.
"We just like to make people's lives better and easier," she said. "It's really rewarding. You can feel the impact in your heart."
A proud Wright State graduate, Thompson serves on the Wright State Alumni Board of Directors.
"I view Wright State as a pillar in the community. It has such an impact on so many people," Thompson explained. "Wright State offered me so much opportunity. It took me to NASA."
Robert Pollard '79
Guided By Voices leader reflects on his prolific music career and his famous Wright State no-hitter
While fans of the Dayton-based indie rock group Guided By Voices are familiar with the genius of the band's leader and creative force, Robert Pollard, they may not know Pollard once played baseball for Wright State.
In fact, Pollard made history in May 1978 for throwing the first-ever no-hitter for the Raiders.
"I didn't realize I had a no-hitter until after the final pitch and my team cleared the bench on me," Pollard recalled. "I had given up a run early in the game, maybe on an error and a stolen base or something. Because of that, I didn't feel much pressure. My team knew and kept it a secret."
Pollard has fond memories of his years at Wright State.
"It was great. I had a lot of fun. I also got into some trouble occasionally. But I met a lot of good people and had some fantastic professors," he said.
Pollard credits a Wright State creative writing professor for boosting his confidence and helping him discover his potential as a writer.
"He gave me an A++ on a short story I wrote called 'Eightball.' I thought that was a pretty impressive grade," Pollard explained. "Wright State gave me a lot of confidence growing into an adult, especially from a creative standpoint as a writer and entertainer."
To say Pollard has had a prolific career as a singer and songwriter would be an understatement. With a discography of more than 100 group and solo albums, Pollard shows no signs of slowing down. He is even now back on the road with Guided By Voices, playing a few gigs each month.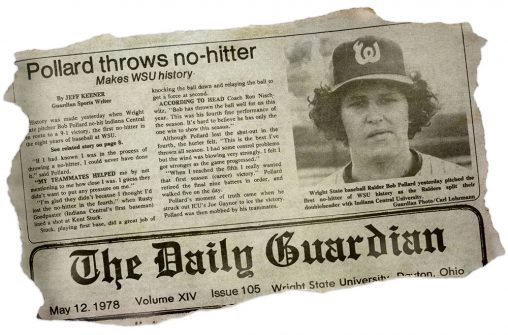 "The shows are great. Four or five hundred to a thousand people, usually sold out," he said. "I have a fantastic band and we've been together now for about seven or eight years. Very tight chemistry."
In January 2023, Guided By Voices released its latest album, La La Land. This year marks the 40th anniversary of the inception of Guided By Voices as a performing and recording entity.
"We have a very special local performance to commemorate that landmark," said Pollard, "but I'm not going to give it away just yet."