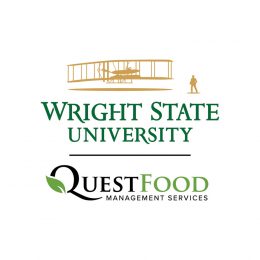 Wright State University will partner with Quest Food Management Services to oversee the dining programs on the Dayton and Lake campuses and with SAVOR to manage concessions and catering at the Wright State Nutter Center.
The search for new providers began by collecting feedback from students, faculty and staff about what they wanted to see in the new dining programs.
"Wright State chose Quest Food Management Services because of their commitment to provide students, faculty, staff and visitors with a refreshed dining experience featuring better food, more selections and improved customer service," said Greg Sample, executive vice president and chief operating officer at Wright State. "They will redefine the campus dining experience."
Quest plans to introduce new simplified meal plans for students and expanded dining hours on both campuses, and its longer-term plans include renovating certain dining spaces into more comfortably designed spaces where students will want to gather. The company also plans to offer convenience-style stores and introduce cashless technology around campus.
Quest's customized dining program includes made-to-order concepts, extensive grab-and-go options and high-end coffee offerings.
"I have been listening to our students and members of the Wright State community about our dining program, and I am excited to watch Quest bring their personal and innovative approach to serving our campuses," said Wright State President Sue Edwards, Ph.D.
Quest specializes in chef-driven recipes and innovative menus using scratch-made cooking and fresh ingredients to offer balanced nutrition, exciting flavors and diverse options. Quest's food philosophy includes responsible sourcing of products that meet the highest quality standards with a focus on animal welfare and sustainability.
Founded in 1985 in Lombard, Illinois, Quest provides food services to 120 locations in the Midwest, including colleges and universities, businesses, conference centers and K–12 schools.
"Quest is honored to become an important part of the Wright State community, and we look forward to bringing the student body together through excellent food and service on campus," said Nick Saccaro, president of Quest Food Management Services.
Quest's commitment to fresh cooking earned the company the highest honor in the College and University category at United Fresh Produce Association's Excellence in Foodservice Awards, underscoring that a partnership with Quest will energize the overall dining experience for Wright State students, faculty, staff and guests.

SAVOR, the culinary division of ASM Global, the world's leading producer of entertainment experiences and venue management, is the new food and beverage provider for the Wright State University Nutter Center. The company will oversee concessions during Wright State basketball games, events and concerts in the Nutter Center.
"One of the fundamental inefficiencies that existed was having the same food service provider serve both campus dining and Nutter Center concessions," Sample said. "The two environments are completely different, and SAVOR brings a demonstrated understanding of how to maximize Nutter Center operations."
One new service SAVOR plans to introduce will be selling drinks and food directly to patrons at their seats within the arena. Additional ideas proposed by SAVOR include a Door Dash program, portable concession stands and an automated cocktail bar available during concerts.
SAVOR will also be responsible for catering services in Nutter Center luxury suites, the Berry Room and the McLin Gym.
Both companies will begin serving Wright State effective July 1, 2023.