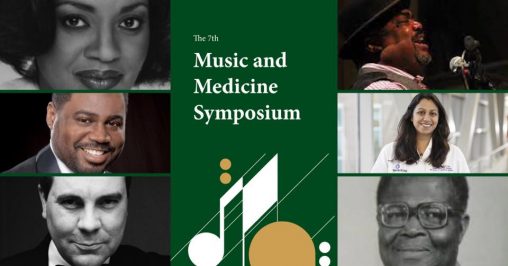 The fields of music and medicine are different. Or are they? The return of what had been a regular event at Wright State University makes the case that the two fields not only are related but also can learn from each other.
The seventh annual Music and Medicine Symposium, "Unheard Voices: Celebrating Diversity and Community in Music and Medicine," will take place from 8:45 a.m. to 4 p.m. on Friday, May 12, in Schuster Hall in the Creative Arts Center on Wright State's Dayton Campus.
The symposium is free and open to all and will feature a series of sessions with performances. Seating is limited. Registration is required at wright.edu/music-medicine.
The symposium is co-sponsored by the Wright State Boonshoft School of Medicine and the School of Fine and Performing Arts in the College of Libera Arts, with support in part from The Kettering Foundation.
"A number of top-flight musicians are going to share their stories and perform," said Glen Solomon, M.D., professor and chair of the Department of Internal Medicine and Neurology and one of the symposium's organizers.
He added the education aspect will be world-class, with one of the keynote speakers being Joseph Godson Amamoo, former health minister of Ghana. World-renowned guests will include tenor Rodrick Dixon, soprano Alfreda Burke, pianist Alvin Waddles, Vidhya Prakash, M.D., and trumpeter Brian Buerkle.
One of the symposium's goals, Solomon said, is to help the community learn about the similarities in the fields of music and medicine.
"Music is an art with a scientific bent — math and science. Medicine is a science with an arts and humanistic side," he said. "They parallel each other."
This year's symposium will celebrate diversity and community in music and medicine.
"There's a huge shortage of underrepresented minorities in medical professions," said Solomon, a co-host for the day's activities. "The U.S. has a tremendous demand for black physicians, for example."
He said medical schools, such as Wright State's Boonshoft School of Medicine, help young people find their specific calling among the various specialties. The bottom line is helping them gain exposure, he said.
"American music has come from minority populations — jazz, gospel, rock 'n' roll, rhythm and blues. Can the medical profession look to what music has done to increase diversity?" Solomon said. "Now more than 50 percent of medical students are women. Medical schools are now adding course material on the humanities into educational curriculum. Can we learn from each other?"
He added, "We'd love to have people come and take a day to learn what great things we're doing at Wright State. It'll be a fun event."
For more information, visit wright.edu/music-medicine or email kelly.reo@wright.edu.