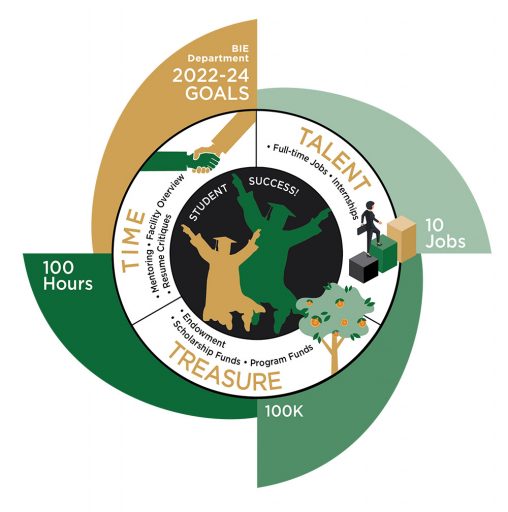 Wright State University's Department of Biomedical, Industrial and Human Factors Engineering (BIE) has launched a fundraising campaign to support student success.
"Like the majority of Wright State students, BIE students often work their way through school in order to finance their educations. Many of them are first-generation college students," said Subashini Ganapathy, Ph.D., professor and chair of the Department of Biomedical, Industrial and Human Factors Engineering. "Internships, experiential learning opportunities, career mentorship — as well as financial support — are critical to helping our students focus more on their studies and graduate with less of a financial burden."
"We are committed to helping our students succeed while also pursuing our vision to be nationally recognized for excellence in education and for cutting-edge BIE research," Ganapathy said. "These are the driving forces behind our BIE Student Success Campaign."
Supporters of the BIE Student Success Campaign are encouraged to contribute their time, talent or treasure:
Time — The department is looking for volunteers to commit 100 hours to mentoring students in biomedical, industrial and human factors engineering career-related activities. Participating in speaking engagements, resume critiques and mock interviews are a few ways in which volunteers can engage with students.
Talent — The department hopes to place at least 10 biomedical, industrial and human factors engineering students in new internships and jobs with local industry partners.
Treasure — The department has set a goal to raise $100,000 in support of student success, recruitment and retention. Fundraising priorities include scholarships, student competitions and professional development, as well as other strategic initiatives to help meet students' needs.
Kaleidoscope Innovation is one of the many local industry partners that currently provide professional development opportunities for BIE students. The company is sponsoring a student senior project that incorporates virtual reality into the usability testing of medical devices.
"It's important for others to follow Kaleidoscope's lead, because supporting students nurtures a thriving educational ecosystem," said Matthew Suits, head of sales for Kaleidoscope Innovation. "Together, we can cultivate a society that values education, empowers the next generation and promotes equal opportunities for all. Let's continue to rally behind students by contributing our time, talent and treasure and by creating a supportive ecosystem where every student has the opportunity to succeed."
Sara Deem, chief administrative officer for dermatology and ophthalmology at the University of Cincinnati College of Medicine, is another supporter of the BIE Student Success Campaign. Like Suits, she also serves on the Industrial and Systems Engineering External Advisory Board.
"We can all help to give students a brighter future through giving of our time, talent and treasure," said Deem. "This can be done in ways big and small. We can build bonds with faculty, as well as students, to create long and beneficial relationships."
Graduate student Santhosh Kumar Kota is grateful for the generosity of both individual and corporate donors, especially their support of student scholarships. A master's degree student in industrial and human factors engineering, Kota is a recipient of the Ganapathy and Prabhala Scholarship.
"Receiving the scholarship increased my confidence level and motivated me," said Kota. "I have been inspired to work harder to achieve my academic success, which has also led to my personal and professional growth."
Online gifts to the BIE Student Success Campaign are welcome.
"I encourage everyone to join us in this noble cause," said Suits. "Let's extend our support to students, empowering them to become tomorrow's leaders, innovators and change makers. Together, we can shape a brighter future for them and for our society as a whole."