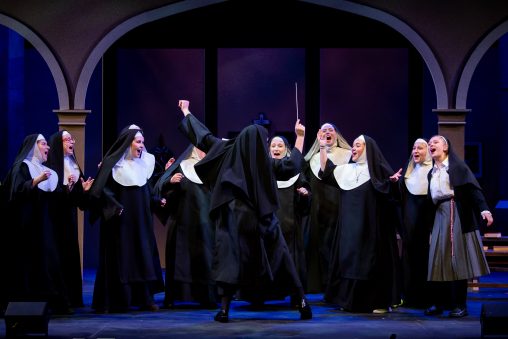 By Jessica Graue '04, '09
The performing arts are expressed in many different ways, but there is one thing they all have in common: an audience. This means the connection the community has to the performing arts in Dayton and at Wright State University is incredibly important to maintain. Each depends on the other.
The university's School of Fine and Performing Arts is dedicated to keeping this connection through its many programs and events. Now that all the arts are merged into one school, it allows for even further collaboration.
In 2022, the College of Liberal Arts consolidated its 10 departments into three schools: the School of Humanities and Cultural Studies, the School of Social Sciences and International Studies, and the School of Fine and Performing Arts. This school, completely based in the Creative Arts Center, includes the former School of Music and Department of Theatre, Dance, and Motion Pictures as well as the Department of Art and Art History.
"The Creative Arts Center at Wright State is perhaps the most visible faceplate of the university," said Dan Zehringer, D.M.A., chair of the School of Fine and Performing Arts. "The number of patrons visiting the Creative Arts Center and using that as their orientation to Wright State, is probably the largest, single most-visited location on campus, where the greater Dayton community frequently interacts with the university."
So what is going on in the school and how does it stay connected to the community?
Theatre and Music
Within the Creative Arts Center, there are three venues in which to attend plays and concerts: The Festival Playhouse, The Dorothy M. & Isabel Herbst Theatre, and the Benjamin & Marian Schuster Hall. One of the main drivers of attendance is the annual theatre subscription series. For the 2023-2024 season, tickets are $90 for adults, $88 for senior citizens, and $85 for students. Zehringer estimates that thousands of patrons annually attend these shows as well as the various concerts, recitals, and programs that are free to the public.
"Not only do they [venues] serve the campus community, but they also serve the artistic soul of the community at large. This wide variety of shows and programming generally attract more people [like] parents, grandparents, sisters, aunts, uncles, brothers, and longtime patrons, than actual Wright State students who are coming through the doors," he said.
Beyond campus, many students get the chance to work with members of local Dayton dance, theater, and music groups. Joe Deer, distinguished professor of musical theatre and former artistic director of the School of Fine and Performing Arts, said the school has collaborated with many of these professionals, and just this past year with the Dayton Performing Arts Alliance, to perform "An Evening of Sondheim" at the Schuster Center with the Dayton Philharmonic. Deer said the combined experience was incredibly beneficial to the students and created new experiences for them.
"They were all in the room together and really singing beautifully…it was stunningly good. I could tell my students were just galvanized by it, but also [they were] in a room where they were literally double the vocal force they were used to. It was such a wonderful shared communal experience, and not something I really expected," Deer said.
Neal Gittleman, artistic director and conductor of the Dayton Philharmonic, said the collaboration with Wright State is helpful for students because in many ways the School of Fine and Performing Arts has parallels with the Dayton Performing Arts Alliance. They both have music, theater, and dance all under one umbrella, so working together is natural.
Students get pushed out of their comfort zones when they work in a larger venue with a larger audience, Gittleman said. "It's a different kind of exposure…it gives them a taste of what the bigger platforms that some of them hope to be in will be like," he said. "Fundamentally, for the students, that's the plus. And the next time they're in a position in a bigger theater, it won't be a big deal."
These connections with the community help students see their future a little more clearly, and can possibly even turn into a career. There are some Wright State graduates who are part of the Philharmonic and Dayton Ballet Company. On the flip side, there are numerous faculty members at Wright State who are also part of these local groups, including the Philharmonic and Muse Machine. These connections keep learning fresh and alive for students and the musicians.
Fine Arts, Film, and Festivals
When it comes to visual arts, the Creative Arts Center houses the Robert and Elaine Stein Galleries. Zehringer said there are four exhibitions per year that are a large draw. The galleries are free and open to the public five days a week and during events to provide the community with contemporary art in a variety of media.
The galleries also ask for outside artists to submit their art for some of the exhibitions. The Ebb and Flow exhibition, on display until October 2023, will feature art that evokes or inspires feelings of serenity and meditative practice as it relates to nature. This is just another way the school brings in local artists from all around the community.
Another visual art popular at Wright State is the motion pictures program. This helps students meet the highest standards of the film industry, and there are several alumni who have been very successful. Hannah Beachler, a 2005 graduate, won an Oscar for production design for Black Panther in 2019.
Many people know the work of late Wright State professor emeritus Julia Reichert and former motion pictures faculty member and 1986 Wright State graduate Steven Bognar. They won an Oscar in 2020 for American Factory, a film about the Fuyao Glass America plant in Moraine. Teachers like them inspire students who often go out and do wonderful things in the community.
One of those students is Jonathan McNeal. "Julia Reichert was insistent that we utilize resources within the community to help make our films," he said. "We got casting help from the folks at Human Race and Muse Machine. We worked with local restaurants for catering. We learned how to be better citizens while scouting locations. And we of course got to know operators of local cinemas while looking for exhibition opportunities."
McNeal earned his Bachelor of Fine Arts in motion picture production in 1996 and has worked as the manager of The Neon, Dayton's arthouse cinema, for 22 years. Now he is connected to the school because The Neon is where many student and local filmmakers can showcase their work. This year and in some years past, The Neon has played host to the Big Lens Film Festival, which showcases new films by Wright State students.
There are many other festivals the school hosts on campus, including the Honor Band Festival, Fall Choral Festival, Brass Festival, Fall Strings Festival, and Winds Fest. These events bring students to Wright State from beyond just Raider Country. During the summer, Wright State normally hosts around 12 different high school marching band summer camps, professional dance camps, and choral acapella camps. This allows potential students to spend time living and working on the Wright State campus and see firsthand what the university has to offer.
"These summer events bring in thousands of high school students from across the tristate area and from across the U.S.," Zehringer said. "Thousands of people are on campus from June through early August when there really are not many Wright State students on campus. This facility is constantly bustling with creativity and life."
Thanks to the subscription series to the theatre, festival, and art submissions, and the camps that are offered every year, the School of Fine and Performing Arts is doing its share of money-making and community outreach.
The Future: Collaborate
The school will continue to train and teach its students to hone their crafts and create works that delight people's ears and eyes. Zehringer said part of the reason he loves his position is because the students are incredibly dedicated and have already been honing their craft for years before they arrive at Wright State. He said many times the students are more driven because they are accepted into highly competitive programs from a national and international pool of applicants.
"A lot of our students we do consider to be from Raider Country," he said. "Working with students, watching them learn their craft and progress as artists is really the greatest part of my job. I just absolutely love that."
And the collaboration with the community will definitely continue. The faculty will continue to work with outside groups and help students make connections. Beyond the local groups mentioned, there are many others who are involved with the arts at Wright State, including the Dayton Contemporary Dance Company, the Dayton Opera Chorus, La Comedia, and The Human Race Theatre.
These collaborations are necessary if the arts are to continue. According to Deer, the value of higher education to a community is constantly evolving, especially since COVID-19. Being actively engaged with the neighboring arts groups helps students learn more and can help when it comes to funds. Deer said it is expensive to give students life-changing experiences, so these partnerships are perfect for the school.
"The future has to be collaboration," Deer said. "It has to be looking for ways that we can pool our resources because the thing no teacher wants to accept is a reduced experience for their students…it's easy to become disconnected in certain ways.
"I think the future for the School of Fine and Performing Arts and for Wright State is finding its way to connect with our community, and to see and hear our community and for them to see and hear us in ways that feel relevant and urgent."
This article was originally published in the fall 2023 issue of the Wright State Magazine. Read more stories at wright.edu/magazine.