Excerpt
About 2,000 Wright State University students are moving into on-campus housing this year. Move-in started Wednesday, continues Thursday and ends Saturday with students living in on-campus apartments.
The number of students living on campus is an early, positive sign of higher enrollment, Susan Schaurer, vice president for enrollment management and chief recruitment officer at Wright State, said Wednesday as students moved in.
After years of declining enrollment, the university has been working toward recruiting more students, both internationally and locally.
Schaurer said the number of students living on campus this year is about a 20% increase over last year.
"Because on campus housing is open to first-time students, transfer students, as well as continuing students, both domestic and international, it is an indicator of the broader trend that we will likely see for enrollment this fall," Schaurer said.
Final enrollment numbers won't be available until mid-September, when all public Ohio universities and colleges take a census of how many students they have and report it to the Ohio Department of Higher Education.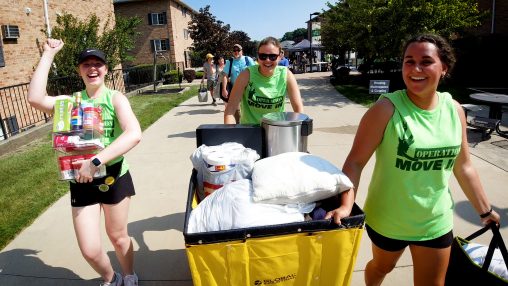 Jennifer Attenweiler, director of residence life, said move-in at Wright State works like it does at many other universities. Students sign up for a time slot and the student and their families bring their stuff to the dorm, then load items into big bins that students can move into the hall.
Attenweiler said Wednesday and Thursday also kick off a welcome weekend for all students, including students who commute to campus and those who live on-campus.
"We encourage our commuter students to make friends with residential students so they can kind of hang out with them in between classes, spend time in our residence halls in our communities, engage them in student organizations as well," Attenweiler said.
Several of the students moving into campus dorms on Wednesday were from the area. Shevon Kimball, an incoming freshman at Wright State planning to major in chemistry and eventually become a forensic scientist, is from Dayton.
She said she's looking forward to getting started with her career, after getting about 25 credits from College Credit Plus through her high school's program.
"I'm just most excited about getting straight in, honestly," Kimball said.
Sarah Blocher, an incoming freshman from Troy, said she plans to major in mechanical engineering and was looking forward to the classes she would be taking for that.
She said move-in was going quickly for her, especially with the assistance from the move-in crew.
"I want to meet new people, make new connections," Blocher said.
View the original story at daytondailynews.com