Wright State University will celebrate the innovative spirit of its namesakes and researchers working on campus with the 12th annual Wright Brothers Day on Thursday, Oct. 5, from 11 a.m. to 2 p.m. in the Student Union Atrium.
Organized by the American Marketing Association at Wright State, Wright Brothers Day is designed to raise awareness among students about the accomplishments of the Wright brothers, who invented the airplane in their Dayton bicycle shop and conducted most of their early test flights on Huffman Prairie.
Wright Brothers Day celebrates the anniversary of Wilbur Wright's 39-minute flight on Huffman Prairie on Oct. 5, 1905. The flight demonstrated that Wilbur and Orville Wright had advanced their design to the point of a practical airplane.
The event also highlights the Wrights' pioneering spirit by featuring innovative research and demonstrations from local organizations and Wright State faculty, students and programs.
"I think it's really great that every year we get to continue to celebrate the innovative minds in our community and through our school," said Emma Tetlak, a marketing and human resources management major and vice president of communication for the American Marketing Association.
Participating researchers and innovators from Wright State include:
Demonstration on predicting changes in water resources under climate change, by Allen Hunt, Ph.D., professor of physics
Wright State's Assured Digital Microelectronics Education and Training Ecosystem project, which trains students in the microchip and microelectronic fields, and the National Pathway to Success cybersecurity training program, by Fathi Amsaad, Ph.D., assistant professor of computer science
A robotic claw that users control using their nervous system, by the Bachelor of Science in Physiology and Neuroscience Program
Smart manufacturing robotic arm, by Wright State's Intel Initiative, led by Subhashini Ganapathy, Ph.D., professor and chair of biomedical, industrial and human factors engineering
Breast anthropometric measurements, by Sheila Galbreath, a graduate engineering student, and Tarun Goswami, D.Sc., professor of biomedical, industrial and human factors engineering
Direct, real-time sequencing of mRNA, by the Center for Genomics Research
Molecular sensing research with a focus on human performance-related biosensing of the human breath, by Ivan Medvedev, Ph.D., professor and interim chair of physics, and Daniel Tyree, graduate applied mathematics student
The Wright State University Library's Special Collections and Archives — which houses one of the most complete collections of Wright family material in the world — will display photographs taken by and of the Wright brothers as they invented and perfected powered flight. The archives will also test participants' knowledge of the Wright brothers with trivia questions.
Participants from the local community include:
Video gaming and simulations, provided by the GRILL (Gaming Research Integration and Learning Lab) at the Air Force Research Laboratory
Flight simulator, provided by MacAir Aviation
3D cloud room scanner, demonstrated by Marxent
Near-real-time public safety radio and 911 transcription technology, demonstrated by Smart Response Technologies
Information on the Wright Company's hydo-aeroplanes, presented by the Wright Seaplane Base
Dual robot electronic board assembly system, a candy-throwing robot and a robotic programming simulator, provided by Yaskawa Motoman Robotics
After Dark: Steampunk Soiree fundraiser, promoted by the Air Force Museum Foundation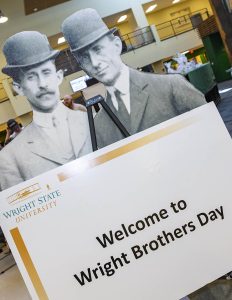 Students can also learn more about Wright State's flight training opportunities provided by First Flight Aviation, a Federal Aviation Administration-approved Part 141 flight school located at the Dayton-Wright Brothers Airport.
Alex Heckman, vice president for museum operations at Dayton History, will deliver the opening address.
Dayton History is a private nonprofit organization established to preserve, share and celebrate the Dayton region's history. Its main campus is Carillon Historical Park, which is home to more than 30 historic structures and 3 million artifacts. The park's John W. Berry Sr. Wright Brothers Aviation Center has more Wright artifacts on display than any place in the world, including the 1905 Wright Flyer III, the world's first practical flying machine.
The American Marketing Association will hold a trivia contest and raffle for students who visit the event.
More details on Wright Brothers Day are available at wright.edu/wrightbrothersday.