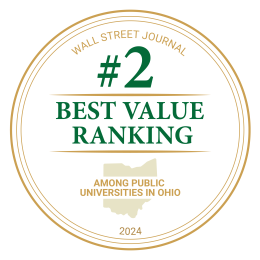 According to a new Wall Street Journal/College Pulse national ranking for best value among national colleges and universities, Wright State University is one of the top 400 schools in the nation and No. 2 in the state among Ohio public universities in the value it provides its students.
Universities that performed the best in this ranking kept costs low and put graduates on pathways to valuable careers.
Wright State is proud to be considered one of the top 400 schools in the nation at providing value to its students. In the state, only Ohio State was ranked ahead of Wright State by the Wall Street Journal's calculation. View the overall rankings.
Guided by research conducted by the public-policy think tank Third Way, the Wall Street Journal's best-value calculation looked at how quickly a degree from each college paid for its cost through the salary boost it provided its students.
The calculation estimated the net price of a four-year education at each university and compared that to how much higher the median salary of its graduates was 10 years after enrollment than that of high school graduates in its home state. Net price is the average overall cost of attending college for students who received federal financial aid, including tuition and fees, room and board, and books and supplies, taking into account any grants and scholarships.
The best value ranking follows Wright State's recent national ranking in America's Best Colleges for 2024 list, which was also conducted by the Wall Street Journal and College Pulse.
The America's Best Colleges 2024 ranking serves as a guide for prospective students across the nation while recognizing the colleges and universities doing an outstanding job in higher education. The ranking of the top 400 colleges was based on a student and alumni survey and student outcomes metrics.
The student and alumni survey was one of the largest ever independent surveys of college students in the United States. Over 60,000 undergraduate students and recent undergraduate alumni were asked by College Pulse to provide feedback on colleges that are of great value to its students in terms of tuition, learning environment, degree completion and the likelihood of a higher salary after graduation.
Student Outcomes Metrics used a variety of metrics around student outcomes to determine the salary impact compared to similar colleges, the number of years to pay off net price and graduation rates compared to similar colleges. An assessment of the level of diversity on campus was also a part of the analysis.
Future students and their families can explore the Dayton Campus, connect with faculty and current students, and learn why it's a great time to be a Raider at Wright State University's next open house.
Raider Open House takes place on Saturday, Oct. 21, in the Student Union. Guests may register to begin their open house experience at 9, 10 or 11 a.m.
Registration information and detailed program schedules are available at wright.edu/raideropenhouse.
Raider Open House is open to any student interested in pursuing a four-year or bachelor's degree at Wright State.