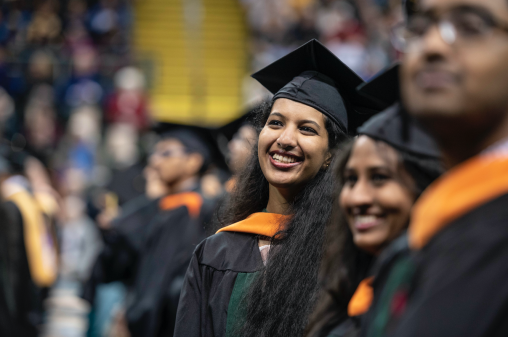 Future graduate students can learn more about Wright State University's certificate, master's and doctoral programs during the Graduate Programs Open House on Thursday, Nov. 2, from 4 to 6 p.m. in the Apollo Room in the Student Union.
Register for the Graduate Programs Open House.
According to the U.S. Bureau of Labor Statistics, a master's degree can boost earnings by 18% more than a bachelor's degree. A graduate certificate can increase one's salary by 13 to 25%, according to Forbes.
Wright State offers more than 100 graduate programs and certificates with flexible options to meet students' needs. Some graduate programs can be completed in one year while some graduate certificate programs require as few as three courses and can be counted toward a future graduate degree.
Students may also learn about combined degree programs that can save time and money toward both an undergraduate and a graduate degree.
Attendees can meet the university's nationally distinguished faculty and learn more about the application process, financial aid, scholarships and transferring credit.
Faculty, staff and current students will be on hand to share information and answer questions from the following academic areas:
Business
Engineering and Computer Science
Health, Education and Human Services
Liberal Arts
Medicine
Psychology
Science and Mathematics
For more information, contact wsugrad@wright.edu.