Wright State University's Celebration of Undergraduate and Graduate Research, Scholarship and Creative Activities will provide undergraduate and graduate students from a wide array of disciplines an opportunity to showcase their academic endeavors.
The showcase will take place from 9 a.m. to 4 p.m. Thursday, Oct. 26, throughout the conference wing of the Student Union on Wright State's Dayton Campus.
"This event highlights the remarkable research, scholarship and creative activities of our undergraduate and graduate students across various disciplines," said Madhavi Kadakia, Ph.D., vice provost for research and innovation. "Through knowledge and discovery, we are providing powerful tools for cultivating the next generation of critical thinkers."
The annual university-wide showcase provides students an opportunity to exhibit posters and present discoveries, advances and scholarly exploration.
More than 100 students will present their research. Students will also share their experiences with other students, faculty and community partners.
"Together we are helping to provide answers to some of the world's most complex issues while also providing our students with experiential learning opportunities," said Kadakia. "This event exemplifies the support provided by deans, chairs and mentors who are committed to supporting our students in their respective areas of research and study."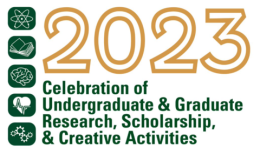 A host of plenary speakers will begin in the Endeavour Room at 9:45 a.m. followed by a data blitz session at 11:15 a.m. that will feature student presentations on information from a wide array of topics. Student poster presentations begin at 1:15 p.m. in the Apollo Room.
Visit wright.edu/event/celebration-of-undergraduate-graduate-research-scholarship-and-creative-activities to view the schedule and learn more about the 2023 Celebration of Undergraduate and Graduate Research, Scholarship and Creative Activities.
Sponsors of this event include Ball Aerospace, Altamira, Heraeus and Mined XAI.