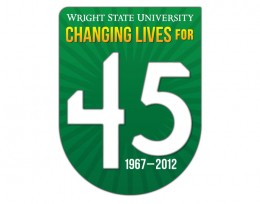 In the words of singer/songwriter Paul Simon, it will be a Mother and Child Reunion.
Wright State University owes its birth to two other schools—Miami University and The Ohio State University. So as part of Wright State's 45th anniversary celebration, Ohio State President E. Gordon Gee and Miami President David Hodge will "reunite" with Wright State President David R. Hopkins.
On Wednesday, Nov. 28, the three presidents will take part in a Presidential Lecture Series panel discussion titled The Future of Higher Education. The program will begin at 2 p.m. in the Student Union Apollo Room.
"This will be an opportunity to reflect on our roots and how far we've come in such a short time," said Hopkins. "It will be a celebration of achievement."
The Dayton Campus of Miami and The Ohio State University was educationally in business when students arrived at Allyn Hall on Sept. 8, 1964. Three years later, Wright State University was established, with 5,000 students.
The school has grown from a one-building campus to a shining star among Ohio universities, boasting two campuses totaling 730 acres and populated with more than 60 buildings.
Math professor Marc Low arrived in 1964 and spent his entire professional career at the school.
"I still think that we did more exciting and innovating things here than other universities did—the more established universities did—over the years. It seemed to us that we were always ahead of the curve in many ways," Low said. "So I think that we have matured as a university and become really one of the best universities in Ohio."
The birth of Wright State was helped by then-Gov. James Rhodes' effort to place public higher education facilities within 30 miles of every Ohioan.
At the time, Dayton was a high-technology center with a special need for a highly developed labor force. Community leaders mounted a private capital-fund campaign to secure a joint branch campus for Ohio State and Miami that could be converted into a unified state university.
The campaign included contributions from thousands of manufacturing employees in weekly or monthly payroll deductions that lasted up to four years. By June 1962, more than $6 million in cash and pledges had been raised.
The four principal founders of the school were Novice Fawcett, president of Ohio State; John Millett, president of Miami and chancellor of the Ohio Board of Regents; Stanley Allyn, chief executive officer of the National Cash Register Corp. (NCR); and Robert Oelman, successor to Allyn at NCR and board chair of Wright State through its first decade.
The seeds for Wright State were planted in a pasture 12 miles northeast of downtown Dayton. The chosen site had plenty of room for expansion, highway access and was close to Wright-Patterson Air Force Base—a dream come true for Air Force planners thirsting for a nearby university.
A man by the name of Henry Bader went from farm parcel to farm parcel, buying land totaling 428 acres at a cost of about $756,000. Groundbreaking occurred May 31, 1963—a clear, bright day that had the musical instruments of the Air Force band sparkling in the sunlight.
Gary Barlow, a high school art teacher and one of the first faculty members at Wright State, remembers coming up to see where the university would be built.
"It was grassland and fences and cows in the fields and so on," Barlow recalled. "I looked over and I thought, 'Oh my, did I give up a job to come over here for this? Something isn't even up yet.' Later, I came out and watched the big hole in the ground being dug for the first building."
Barlow said the first class he taught was in a classroom that was still under construction. He said he would teach a little and then stop so the construction workers could install ceiling tiles. Then he would start teaching again.
"I'd asked the class a question, and the worker up on top of the ladder raised his hand. So I called on him and he answered, and he got involved in the lecture in the class," Barlow said. "Not many people have the opportunity of being there while a university is built around them. It's really a wild and crazy and wonderful thing."
Wright State featured a cosmopolitan faculty and a student body peppered with older, non-traditional students. Its success was built on the brains and work of thousands of alumni who became the first member of their families to graduate from college.
Many of these students turned their hard-won degrees into jobs in the stratosphere of their chosen professions. To date, Wright State has produced nearly 100,000 graduates.
(Much of the information in this story was gleaned from the book Founding and Fulfillment: Wright State University 1964-1984 by Charles W. Ingler.)