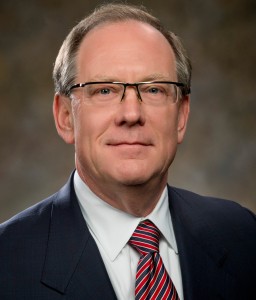 Dennis J. Andersh, a nationally renowned senior executive in management and research, has joined Wright State University to spearhead the growth of its use-inspired and applied research portfolio.
Andersh will grow the Wright State Research Institute and its collaborative research activities with Wright State faculty and students through its Applied Research Corporation, as well through partnerships with the community and state that support both the university's priorities and regional economic development.
"We feel privileged to have Dennis bring his management experience and entrepreneurial leadership in a variety of research domains to lead our applied research efforts," said Wright State Provost S. Narayanan. "Adding Dennis to our team further demonstrates the university's commitment to a regional approach to business growth through the institute."
Andersh is highly respected as a business executive who has built collaborative partnerships among academia, industry, government, commercial, congressional and local organizations to create strategic growth.
In his role with Wright State, he plans to connect the university's applied research to new markets, while also leveraging the institute's existing commercial and health care business.
"I am extremely impressed with the dedication of the team at the institute and by the faculty at Wright State," Andersh said. "Wright State is really working the right areas for the future, and I look forward to the opportunity to stay dedicated to this region."
Andersh brings more than 20 years of experience in leadership, management and research innovation to Wright State. Since 1998, he has held leadership positions at Leidos, formerly known as SAIC (Science Applications International Corporation).
Most recently, he led SAIC's Dayton operations as senior vice president, Dayton regional executive. In this role he was responsible for SAIC's business with Wright-Patterson Air Force Base, Springfield Air National Guard and the Dayton region. He increased revenue in Dayton operations by 20 percent year-over-year and grew the employee base from 235 to 450.
His previous SAIC roles included reconnaissance and surveillance operation senior vice president in Arlington, Va., and vice president and associate operations manager in Champaign, Ill.
Andersh is also an accomplished researcher, winning multiple awards from the Air Force when he directed radar research programs for the Air Force Research Laboratory. He also led research and development and testing for NASA.
In his spare time, Andersh has been a major supporter of STEM programs throughout the Dayton region. He also serves as the secretary of the Dayton chapter of the National Defense Industrial Association and as the chair of the Dayton March of Dimes Walk.
He earned his bachelor's degree from the University of Arizona in 1980 and his master's from the Air Force Institute of Technology in 1991. Both degrees were in electrical engineering.