Hollywood icon Tom Hanks, who is co-chairing Wright State's Rise.Shine. fundraising campaign, has a long-running love affair with the university that has grown deeper with each passing year.
He once took the stage at Wright State as a young Shakespearean actor. His part in a New York City play produced by the current chair of the university's performing arts program helped lead to his discovery by a Hollywood agent. And a Wright State graduate helped Hanks produce two Emmy Award-winning television miniseries.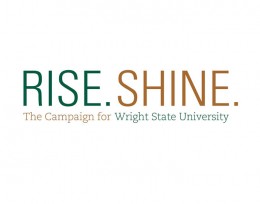 Hanks has also started a scholarship fund at Wright State, produced videos in support of the school and provided memorabilia and his personal time to help the school raise money for its performing arts program and now the entire university.
Most recently, Hanks has agreed to help lead the $150 million fundraising campaign that promises to further elevate the school's prominence by expanding scholarships, attracting more top-flight faculty and supporting construction of state-of-the-art facilities.
"He is everyman's man; he's about ordinary people," said Wright State President David R. Hopkins, who has met with Hanks multiple times over the years. "What he loves is that we serve people from all backgrounds in life. And he is so committed nationally to military veterans. He loves our mission."
In a video prepared for the public launch of the campaign, Hanks says the nation needs universities like Wright State, where students of all ages from all walks of life can make the connections that set them on the path to making their dreams come true.
"What I understand about Wright State is they are willing to do what it takes to help every student succeed," he said. "I can't think of anything more important for a university to do."
Hanks' first contact with Wright State came in the late 1970s, when he was a young actor with the Great Lakes Shakespeare Festival in Cleveland. As part of a tour, Hanks performed at Wright State in Shakespeare's "The Two Gentlemen of Verona."
Then Hanks went to New York and — after about six months of being unemployed — auditioned for the Riverside Shakespeare Company of New York, which was founded by W. Stuart McDowell, currently chair of Wright State's Department of Theatre, Dance and Motion Pictures.
"We cast him right off the street in the lead of Machiavelli's 'The Mandrake,' playing the role of Callimaco," McDowell recalled. "He was phenomenal. He had an incredible sense of improvisation and stage presence. He would come out during the opening of the show and riff with the audience, do an improv."
As a result of his role in the play, Hanks was able to secure an agent, who took him and his blossoming career to Hollywood. Hanks would go on to star in blockbuster films such as "Forrest Gump," "Apollo 13" and "Saving Private Ryan" and win several Academy Awards.
When McDowell joined the faculty at Wright State in 1994, he learned that Erik Bork, a motion pictures student who had graduated a few years before, had gotten a job with Hanks as a script reader. Bork went on to help produce Hanks' TV miniseries "From the Earth to the Moon" and "Band of Brothers," both Emmy Award winners.
"Our motion pictures students don't just make films, they know films," McDowell said. "They learn foreign films, history of films, silent films so that when they start making films they have this almanac of experience by watching and critiquing and talking about these films. That's a testament to the program."
In 1998, Hanks gave Wright State money to launch a scholarship fund in his name. So far, the fund has provided scholarship money to 67 students in acting/musical theatre, dance, design technology and theatre studies.
Hanks has also donated autographed movie posters that were sold at Wright State's ArtsGala, the annual fundraising event to support student scholarships in theatre, dance, art, music and motion pictures.
After the huge success of Hanks' movie "The Da Vinci Code," he agreed to have tea in Rome on the set of "Angels and Demons" with the winning bidders of an ArtsGala auction item. The winning bidders, retired Oakwood engineer Michael Di Flora and his wife, led to major face-to-face time in Rome between Hanks, McDowell and the Di Floras.
In 2011, Hanks in a taped video gave a glowing endorsement of Wright State's arts programs during a news conference to announce that the university's Collaborative Education, Leadership and Innovation in the Arts (CELIA) center had been designated an Ohio Center of Excellence for the arts.
Last year, a delegation of Wright State officials traveled to New York City to meet with Hanks, who was performing in the play "Lucky Guy."
"We cracked a lot of jokes about those early days," said McDowell. "He remembers his roots."
Learn more about Rise.Shine. The Campaign for Wright State University >>