Wright State University was recognized as one of the best colleges for veterans and active duty military personnel by the website CollegeRecon.
"The university has really invested a lot of time and resources and human capital into making sure we make our student veterans feel they belong and that they're welcomed here," said Seth Gordon, director of Wright State's Veteran and Military Center. "There are a lot of things for us to be proud of that have happened just in the last year and half."
CollegeRecon provides tools to current and former military personnel to research and connect with colleges and universities across the country.
The website based its ranking of the colleges with the best veterans programs by identifying key benefits programs for veterans and military personnel offered by colleges and universities.
View the rankings from CollegeRecon.
Wright State has long been recognized as a welcoming campus for veterans and military personnel. G.I. Jobs and Military Advanced Education have honored the university as military friendly.
The university serves about 750 veterans or military-connected students — service members, Guard and Reserve members and military dependents. Wright State offers an array of resources to help those students transition to campus.
In fall 2014, Wright State opened a new Veteran and Military Center (VMC), 4,500-square-foot area designed to provide a welcoming space on campus for veteran and military students. The VMC is designed to efficiently provide support services for veteran and military students and provide a space where they can relax and study together.
The VMC is considered a model for processing GI Bill benefits — something Gordon said is directly related to the efforts of Amanda Watkins, the center's associate director, and Ty Lea Brewsaugh, VMC assistant director and certifying benefits official. The center processes $7.5 million in tuition benefits and related benefits a year for student veterans.
"We take the processing of GI Bill benefits seriously, and we really perform here," Gordon said. "The people are the reason we're so successful. Without those two people — Amanda and Ty — nothing that I do would matter. We're on that list because of them."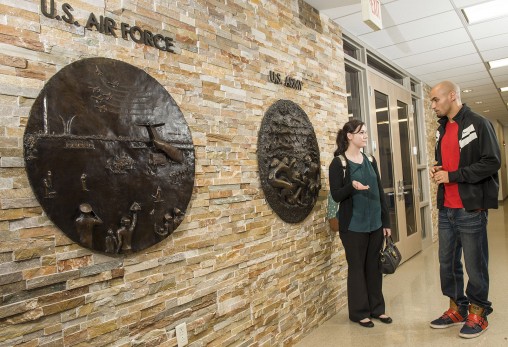 Wright State awards education credits for military training and experience and offers courses designed to appeal to veteran and military students. The university also delivers high-quality career service counseling and helps veterans connect with other students through campus events, student clubs and the VMC.
The university's Graduate School offers scholarships for military personnel and civilian workers at Wright-Patterson Air Force Base who want to pursue graduate degrees. Gordon hopes to expand scholarships to other military personnel.
Wright State's College of Nursing and Health now offers a Veterans Bachelor of Science in Nursing for veterans and members of the Air Force, Army and Navy.
Thanks to the efforts of VMC Program Coordinator Mike Farrell, Wright State was one of 30 colleges nationwide recently selected to participate in the University of Michigan's Peer Advisors for Veteran Education (PAVE) Program, a peer-mentoring program for student veterans.
"It's the Cadillac of peer-mentoring programs in veterans' education," Gordon said.
The VMC has collaborated with WYSO Public Radio to produce "Veterans Voices," a series of stories by Wright State student veterans about veterans' experiences transitioning to civilian life.
"We're engaged in the community in ways that go beyond what happens in the classroom," Gordon said.
Students in Wright State's Veteran Students of America chapter raised funds to send 20 student veterans to the VSA national conference in Florida in January.
James McCauley, an M.B.A. student who served with the U.S. Marine Corps in Iraq in 2005, is working with the VMC to organize a Casino Night Fundraiser on April 2 at American Legion Post 526 in Fairborn. Proceeds will help start a veteran scholarship program.
"Those are things that are happening because students are taking ownership of what we're doing here. That's always been the goal," Gordon said.
Lt. Col. Gary Denney, commander of Air Force ROTC Detachment 643 at Wright State, said Detachment 643 takes great pride in meeting the Air Force ROTC's mission to "develop quality leaders for the Air Force."
"Air Force ROTC Detachment 643 is dedicated to recruiting, training and equipping cadets with the tools needed to commission and serve into the world's greatest Air Force," Denney said. "Wright State University continues to prove itself as ground zero for our cadets' academic achievement and leadership studies."
Lt. Col. Aaron E. Clapsaddle,Raider Detachment commander and Military Science Department chair, said Army ROTC has been an integral part of the university and the community for 42 years.
"Army ROTC provides a myriad of scholarship opportunities and financial incentives to assist students in pursuing undergraduate and graduate degree programs while training to be a future Army officer," Clapsaddle said. "Our program stresses academic achievement, service to university, community and country, and provides adaptive, agile, innovative and flexible leaders of character and competency for America's Army."