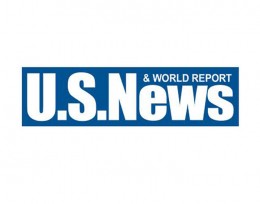 U.S. News & World Report has given Wright State University's online master's in Education degree program training teachers to be leaders in the field the No. 1 ranking in faculty credentials and training.
Wright State's score in the magazine's "Top Online Graduate Education Programs" exceed that of schools such as Syracuse University and the University of Southern California.
Jill Lindsey, Ph.D., chair of Leadership Studies in Education & Organizations at Wright State, said the honor validates the priority and emphasis the program places on recruiting and retaining high quality faculty.
"Half are tenured faculty and half are fresh out of the superintendency, but all were teachers and administrators," Lindsey said. "They bring that authentic life experience to the classroom. It keeps students relevant to what's going on in schools today. And our faculty are known for going above and beyond."
In addition to the No. 1 ranking for faculty credentials and training, U.S. News also placed Wright State's program on the magazine's honor roll for student engagement and accreditation; and student services and technology.
"Our faculty are very focused on student engagement," Lindsey said. "And we try to stay on the cutting edge of innovative ways to incorporate technology and learning tools into the classroom."
The Master of Education is a teacher leadership program focused on curriculum, instruction and professional development for educators who want to remain in the classroom and mentor younger teachers, develop curriculum, improve teaching strategies or oversee special programs for students.  It is also the initial coursework for those who aspire to be principals and superintendents.
The Teacher Leader Program began in the 1970s as a way to reach out to students by sending faculty members to teach courses in outlying areas where there were a significant number of students, such as Wapakoneta, Marysville, Washington Court House, Batavia and Forest Hills.
As online technology developed, the program morphed into a hybrid model, with some of the courses and cohorts—or groups of students–being taught both face-to-face and online. In 2004 some of the cohorts went fully online; today, most of the cohorts are online.
The department has 22 faculty and staff members, seven of whom teach in the Teacher Leader Program. The online program delivery was spearheaded by Program Advisor Grant Hambright, Ed.D., and has graduated 260 students.
Students who take the online classes log in at a designated time and can see the instructor and Power Point presentations on their computer screens. Some students have webcams and are visible to the teacher and other students. Others are represented by icons and can respond verbally or by typing. Some courses are set up in modules in which students complete coursework at their own pace and are required to pass exams to advance.
"The nice part of online offerings is that we can still offer remote cohort learning opportunities even when we don't have a collection of teachers in the same locale," Lindsey said.