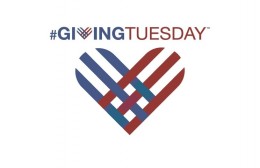 Editor's note: This is the second of multiple stories in the "A Season of Giving" series, which highlights Wright State's commitment to the community during the holidays.
First came Black Friday. Then there was Cyber Monday. Even Small Business Saturday. Have you heard of Giving Tuesday?
Giving Tuesday is a national day of giving driven through social media channels by nonprofits, for-profits and individuals that takes place Tuesday, Dec. 3. The coordinated day of giving began in 2012.
The Student Philanthropy Council and Student Alumni Association are participating this year with a Wright State Giving Tuesday event at the Student Union atrium from 11 a.m. to 2 p.m.
"Giving Tuesday is a great opportunity for organizations to get involved in philanthropy and to show their communities how they're making a difference in today's world," said Jen Foster, director of annual giving. "Wright State provides so many opportunities that help our students succeed because of the generous support from Wright State alumni and friends."
While most Giving Tuesday efforts will typically span just one day and are driven by robust social media campaigns, student philanthropy leaders are approaching Giving Tuesday at Wright State largely as an educational awareness opportunity.
At the event, piggy banks will be passed out aimed at encouraging students to save their change to donate it to worthy causes and students in need. Thank you notes will also be written to alumni and friends who are supporting Wright State scholarships and students.
The event will seek to educate current students on the impact that financial support has on their education, their experiences and why the support they can offer, both as students and alumni, is important too. It will also kick off the Fund4WrightState campaign, an effort to raise enough money to fund full tuition for four Wright State students.
Because of firsthand experience, many students already know how impactful donor support can be to their success in college, but others may benefit from being reminded just how many of their peers are helped by the generosity of others.
"Immersing them in this culture of giving while they're currently on campus will make them aware of the impact once they graduate and become alumni," said Foster. "Our hope is that Giving Tuesday will help students see that like many other nonprofit organizations in the community, Wright State students also have a great need."
To learn more about Giving Tuesday at Wright State or Fund4WrightState, contact Annual Giving at (937) 775-3958 or email at jennifer.foster@wright.edu.
Series: A Season of Giving
Student Philanthropy and Student Alumni hosting Giving Tuesday event