Wright State University has always been a cultural hub teeming with nationalities from around the globe.
But every year, more and more Latin American students, staff and faculty appear on campus, each bringing with them centuries-old traditions that reflect the ethnic and cultural customs of their communities.
From Sept. 15 to Oct. 15, Wright State will join the rest of the country in celebrating the rich culture of Latinos with Hispanic Heritage Month.
"Hispanic Heritage Month is all about exposing the community and the university to our culture," said Tony Ortiz, associate vice president for Latino affairs at Wright State.
"Although everyone in the Office of Latino Affairs is American," said Ortiz, "there are still some things from our culture — like music, art, food and much more — that we want to hang on to, that we want to celebrate."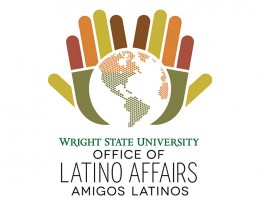 Aida Montes, the graduate assistant for the Office of Latino Affairs, said the Hispanic Heritage Month activities and events will inspire all attendees.
"We want to educate the Wright State community about Latino culture, and this means breaking stereotypes," said Montes. "So, our Hispanic Heritage Month events will go beyond wearing big sombreros and shaking maracas. There's just so much to learn about our culture."
Ortiz said all friends (amigos) and community members are welcome to join the Office of Latino Affairs in its celebration of Hispanic heritage. All events are free.
Hispanic Heritage Month Kickoff
Celebrate the start of Hispanic Heritage Month with music, dance lessons, live broadcasting from "La Mega," Latino food from Antojitos Criollos and a piñata-making presentation.
Monday, Sept. 15, 10 a.m.–2 p.m., Hamilton Hall atrium
"A Look at the Latino Community" Workshop
The Office of Latino Affairs and the Office of Human Resources invites all students, staff, faculty and community members to an interactive two-hour workshop designed to generate thought and discussion about the colorful local Latino communities.
Friday, Sept. 19, 1–3 p.m., Student Union Endeavor Room (E156 A&B)
Presidential Lecture Series: Nairoby Otero
Nairoby Otero is an actress, writer, producer, speaker and first-generation Cuban-American. She has been called "an absolute delight" by critics. Her work has been praised in various publications, including the New York Daily News.
Otero's speaking career began after she campaigned nationwide for Hillary Clinton, then John McCain in 2008. Following this, she began speaking out against sexism and hatred, the discouragement young women face from achieving success.
Otero's lecture is sponsored by the Wright State University Presidential Lecture Series.
Tuesday, Sept. 30, 7–9 p.m., Student Union Apollo Room
Noche de Los Artistas
The Office of Latino Affairs invites you to a night filled with music, poetry, dance, food and art. The event is designed to showcase a variety of talents found within the local Latino community.
Thursday, Oct. 9, 6–10 p.m., Student Union Atrium
Latinos in Engineering and Computer Science Day
The Office of Latino Affairs is thrilled to partner with the College of Engineering and Computer Science in welcoming future Raider Latino students to campus for a day to learn about the engineering profession and to interact with current Latino engineering professionals in the local community.
Monday, Oct. 13, 9 a.m.–2 p.m., Joshi Research Center atrium
Lean more about additional events planned during Hispanic Heritage Month >>