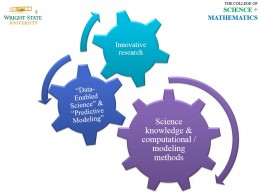 A new Ph.D. in Interdisciplinary Applied Science and Mathematics (IASM) from Wright State University's College of Science and Mathematics has won approval from the state.
John Carey, chancellor of the Ohio Board of Regents, approved the program March 23. The inaugural class will begin study Fall Semester.
The program is designed primarily for students possessing a B.S. or M.S. degree in mathematics, physics or other related disciplines.
The program focuses on materials and nanoscale science and technology development; modeling and analysis for physical and biological systems; and computational problems in the physical and biological sciences.
The proposed curriculum requires core courses that will prepare students for their dissertation work by focusing on research methodology, ethics and scientific writing in addition to courses in advanced mathematics and computation. Eight focus-area courses and four electives are also required.
Projected full-time equivalent enrollment ranges from five students in the first year to 25 students in the fifth year.
More information is available at wright.edu/iasm.