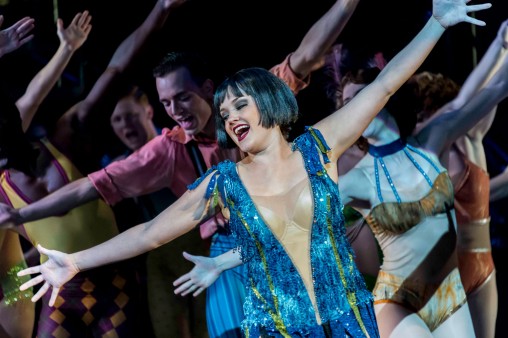 Wright State University Theatre continues its 41st season in the Festival Playhouse with the hit Broadway musical "Chicago."
Performances are Oct. 29, Nov. 4, 5 and 12 at 7 p.m.; Oct. 30, 31, Nov. 6, 7, 13 and 14 at 8 p.m.; Nov. 1, 7, 8, 14 and 15 at 2 p.m.
The longest running American musical in Broadway history, "Chicago" features hit songs "All That Jazz," "Razzle Dazzle" and "Mr. Cellophane." Full of great showstoppers, John Kander and Fred Ebb's classic score keeps the story moving at a frantic pace.
Set in Chicago during the roaring '20s, the musical tells the story of two rival vaudevillian murderesses locked up in Cook County Jail. Nightclub star Velma Kelly is serving time for killing her husband and sister after finding the two in bed together. Driven chorus girl Roxie Hart kills her boyfriend, invents her defense and manipulates everyone from her trustworthy husband to the media and unsuspecting public.
"Chicago" is directed by Joe Deer ("Peter Pan," "Hairspray"), choreographed by Teressa McWilliams ("Hot Mikado," "Oklahoma!") and musical directed by Scot Woolley ("Peter Pan," "The Hot Mikado").
The set is guest designed by award-winner Adam Koch, lighting by Matthew P. Benjamin ("Hot Mikado," "Oklahoma!"), costumes by guest designer Michelle Sampson, properties by John Lavarnway ("The Great Gatsby," "Titanic") and sound by James Dunlap ("Hot Mikado," "Oklahoma!").
On the stage, "Chicago" features Bailey Rose (Roxie Hart), Caroline Chisholm (Velma Kelly), Jordan Adams (Billy Flynn), Tyler Simms (Amos Hart), Katie Momenee (Matron "Mamma" Morton), Cody Westbrook (Mary Sunshine); Murderesses: Alex Caldwell (Annie/Go-To-Hell Kitty), Haylee Dobkins (June), Alyson Snyder (Hunyak), Megan Valle (Mona), Meredith Zahn (Liz); Male Ensemble: Eli Davis (Aaron), Keaton Eckhoff (Fred Casely), Aaron Johnson (Fred Casely), Dakota Mullins (Sgt. Fogarty), Kyle Sell (Tailor/Clerk/Bailiff), Philip Stock (Harrison/Pianist); Female Ensemble: Briana Koon, Rebekah Espich, Scotti Stoneburner, Lindsey Knoth, Hannah Struppa; and Swings: Brandon Kinley and Kayla Storm Gusky.
Tickets are $22 for adults and $20 students and seniors.
For tickets and theatre information call the Box Office at 937-775-2500, or purchase single tickets online at wright.edu/theatre-tickets.