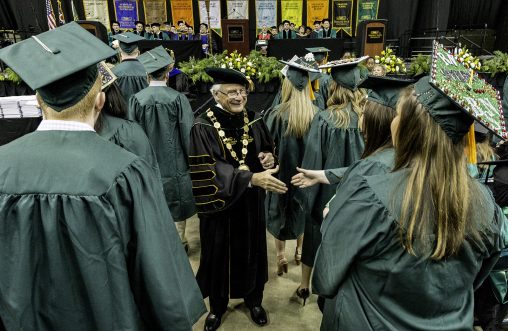 True success in life is measured by the way one treats others and how much more a person cares about the greater good than self-interest, Wright State President David R. Hopkins told graduating students at the university's fall commencement ceremony.
More than 1,800 students graduated Dec. 17 during the ceremony at the Wright State Nutter Center.
View photos from the ceremony >>
Hopkins told the students that their professional accomplishments will be just one component of their success as a human being.
"Our world needs people like you who will care more about the greater good than just your personal self-interest," said Hopkins. "And I know from my personal interactions with this campus, with this group of graduates, that you are already committed to serving others."
For the eighth consecutive year, Wright State was named with distinction to the President's Higher Education Community Service Honor Roll, a national measuring stick of volunteering, community service, service learning and civic engagement. About 14,000 Wright State students gave nearly 1.5 million hours of community service and civic engagement last year.
Hopkins said the nation will look to the graduating students — as part of the next generation of physicians, nurses, educators, engineers, scientists, journalists and elected officials — to make a difference.
"And when many of us are gone, we will leave this world knowing that we've left it in very capable hands — your hands," Hopkins said. "I believe you may be the greatest generation our world has ever seen. And if you make your life a life that truly matters, you will always be successful."
Hopkins singled out for congratulations Lt. Col. Karen Dufour, the first graduate of the College of Nursing and Health's adult gerontology clinical nurse specialist flight and disaster concentration, in 2012.
After completing an assignment with the White House medical unit and working with the vice president of the United States, Dufour returned to Wright State to complete her Doctor of Nursing Practice. She received the outstanding graduate award from the Doctor of Nursing Practice program in April, but was unable to attend spring commencement because she was assigned to the 455th Expeditionary Aeromedical Evacuation Squadron at Bagram Airfield in Afghanistan.
More than 1,150 students will graduate in the fall class of 2016 and another 672 from the summer class. The fall class includes graduates with 748 bachelor's degrees and 384 master's as well those awarded associate degrees and post-master's certificates.
The fall class features graduates from 47 Ohio counties, including 727 from the 16 counties anchored by Wright State's Dayton and Lake campuses. Graduates hail from 22 total states.
The class also includes 234 international students from 16 nations, with India boasting the largest number of foreign graduates with 133.
The graduating students from the fall class range in age from 20 to 62.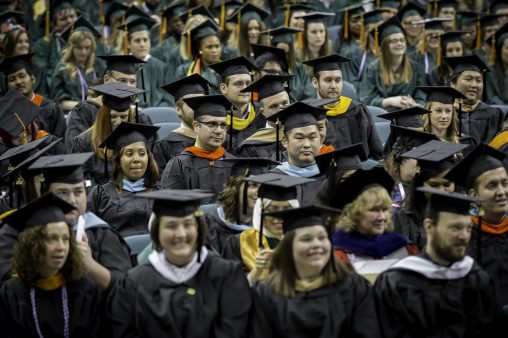 Graduates by college:
College of Education and Human Services: 186
College of Engineering and Computer Science: 298
College of Liberal Arts: 169
College of Nursing and Health: 116
College of Science and Mathematics: 171
Raj Soin College of Business: 167
School of Professional Psychology: 17
Lake Campus: 28
Notable graduates
Hunter Cregger
As a young boy, Hunter Cregger and his family lived in five different states to follow his father's career in retailing. They finally settled in Lebanon, Ohio, where Cregger has spent the past 15 years.
When Cregger first arrived at Wright State, as a first-generation college student, he was majoring in computer science. He later learned that his personality and people skills were better suited to accounting.
"It's much more than a person wearing a visor and crunching numbers in some back room," he said. "When I did an internship in accounting, I had to interview engineers and all these different kinds of people to figure out what kind of research they do and make sure they qualified for these tax credits."
Cregger is an honors student, graduating in the top 10 percent of his high school class and achieving the highest level of honors distinction at Wright State by taking six honors classes and doing a research project. He carries a 3.8 GPA.
Cregger interned in the Cincinnati office of the Plante Moran certified public accounting and business advisory firm. He plans to work at Plante Moran following graduation and hopes to one day be a partner at the firm.
Aliane Kubwimana
Aliane Kubwimana's parents are Rwandan, but she was born in Tanzania. The family moved to the United States when she was an infant and she grew up in the Dayton area. Her father works in patient care at Kettering Hospital and her mother operates her own business, selling African food and other items.
Kubwimana arrived at Wright State in the fall of 2013 and entered the Honors Program and Pre-Health Program. She majored in organizational leadership with minors in biology and public health. She also has a certificate in African-American gender experiences.
Kubwimana is vice president of the Dean's Advisory Council in the College of Education and Human Services. In addition, she works at the campus Fitness Center as a group fitness instructor and served as president of major events for the University Activities Board, leadership consultant for the Office of Student Activities and president of the African Student Union.
She is leaning toward a career in health care management with a hospital, nonprofit or government agency.
"My passions are leadership, health and service," she said. "I think health care management marries those passions very well."
Kubwimana's career decision was affected by overseas experiences in Tanzania and more recently in the Dominican Republic.
"We were actually in the Dominican Republic seeing conditions these people were living in and their limited access to health care," she said. "That's what really opened my eyes. I could be facilitating physicians and helping them reach many people."
Pradeep Paladugula
Pradeep Paladugula grew up in Karnataka, India. Although he currently speaks five languages, he wrestled with English when he arrived in the United States.
"The language barrier was a major drawback for me at first," he said. "I could read and write, but I struggled to communicate with others, which affected how I interacted with people."
While at Wright State, Paladugula sharpened his English-speaking skills by waking up early, reading newspapers and compiling a vocabulary list. He also practiced speaking English at Wright State's University Center for International Education, where he volunteered and later became the international check-in coordinator. He was also president of the center's International Cultural Exchange, which exposes international students to American culture and fosters friendships between international students and their American counterparts.
While in India, Paladugula played organized competitive volleyball at a high level and later became a member of Wright State's first men's volleyball club. He is also in Student Government, a member of the Student Conduct Panel and a brother in the Beta Phi Omega fraternity.
"At every stage of my accomplishments, I was developing new qualities," he said. "The person who arrived at Wright State had no personal-development skills, but the person going out has a lot of them. I had a lot of opportunities and support at Wright State."
Paladugula will receive his master's degree in electrical engineering and has a 3.0 GPA. He and research partner Agasthya Ayachit are writing a journal on "flyback converters" under adviser Mariam K. Kazimierczuk.
Paladugula says he is grateful for the research opportunities at Wright State and the work ethic the university instilled in him. Following graduation, he hopes to work in the electronics industry.