Scott Nagy
Consider how much a college basketball coach must love a university to stay there 21 years.
Then consider how compelling the reasons would need to be for him to leave that university behind.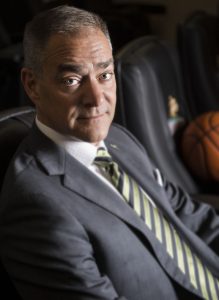 "I can't imagine what it was like for him; it had to be really hard," assistant coach Brian Cooley said of Scott Nagy's decision come to Wright State after 21 seasons at South Dakota State.
Only eight coaches in NCAA Division I had been at their institutions longer than Nagy before he was named Wright State's head coach this spring.
"It's crazy to think that, in coaching, you're going to be anywhere for 21 years," Nagy said.
Nagy detailed some of the reasons for the change during various media interviews after he was hired.
Wright State offers an opportunity for Nagy and wife Jamie to be closer to their families. Nagy's father lives in Chicago, his mother and Jamie's parents in Tennessee.
Wright State has outstanding facilities and is hungry to become a perennial NCAA tournament team.
Wright State pursued Nagy, not the other way around. He had considered Northern Illinois and Ball State in 2011 and 2013, but stayed put.
Wright State offered security in the form of a five-year contract. Nagy was under a one-year contract every year at South Dakota State (a policy recently changed by the state's Board of Regents).
"It was really an easy decision for me after I came to Wright State and saw its potential—both for the university and for the basketball program," Nagy said.
The 50-year-old Nagy helped steer South Dakota State's upgrade from Division II to Division I in 2004 and compiled a 410-240 (.631) overall record. The Jackrabbits qualified for the NCAA tournament in 2012, 2013, and 2016. South Dakota State was 26-8 last season, winning the Summit League regular-season and conference titles before falling to Maryland in the first round of the NCAA tournament.
His influence, however, went well beyond the basketball court.
The Nagys already had four children—Nick, Tyler, AJ, and Natalie—when family friends showed them a photo of a 2½-year-old girl at an orphanage in Haiti. After a 10-month process, the Nagys were able to adopt Naika, now 13. Nagy later took players and coaches to Haiti to aid in humanitarian efforts there.
"It was a great experience, probably the coolest thing we ever did—and it had nothing to do with basketball," Cooley said.
Nagy also has a long association with Samaritan's Feet, a charity that helps collect shoes for children in places like Haiti.
People at South Dakota State tipped their hats to Nagy for what he accomplished there, on and off the court. Now he has found a place in Dayton that holds the promise of becoming special to him in its own right.
"When you have been at a place 21 years, there's no easy way to leave it," Nagy said. "But the culture of this university, the facilities, and the priority given to men's basketball helped me believe Wright State was the right place, and this was the right time, to make this move."
Katrina Merriweather
Every Day, around 9:30 a.m., a cardinal comes to rest on the branch of a tree behind the Setzer Pavilion/Mills Morgan Center and peers into the window of the women's basketball office. When Katrina Merriweather looks out and sees the bright red bird, she thinks of her great-grandmother, Pearl Posley, with whom she spent many childhood afternoons.
"I told my mom, 'That's my Nana, flying around here and looking after me and trying to protect me,'" Merriweather said. "(The cardinal) was her favorite bird. It's just me holding on to her, I guess."
Merriweather's achievements help demonstrate the vital influence Posley and others have played in her life—and how Wright State's new women's basketball coach hopes to follow their example by becoming a significant positive influence in the lives of her players.
"That day I got the job, I literally felt like I was standing on the shoulders of hundreds of people," Merriweather said.
Her first influencers were family. Merriweather comes from a family recognized throughout Indiana for its contributions to both education and basketball.
Her grandfather, Willie, was an All-American at Purdue and is a member of both the Purdue Intercollegiate Athletics Hall of Fame and the Indiana Hall of Fame. He was a long-time teacher and currently headmaster at schools in Detroit. "My grandfather really instilled in me how important it was to value people," Merriweather said.
Her father, Kevin, played at Purdue and the University of Indianapolis before establishing The Family, a community and mentoring project of which one component is a powerhouse AAU basketball program. "His training sessions were unorthodox, but they worked out pretty well," Merriweather said. "And my mom made sure I didn't quit."
Merriweather was a two-year starter for the University of Cincinnati, becoming the first player in school history to play in four consecutive postseason tournaments. The basketball staff there included Mike Bradbury, who would later hire Merriweather as an assistant when he became head coach at Wright State.
"She could do anything we asked her to do," Bradbury said. "She's got 'it,' whatever 'it' is. I think she's going to be a star."
Merriweather, 36, is a product of her experiences as well as her influences. She admits to having learned some difficult, but valuable, lessons through mistakes she made as a young assistant.
"I made decisions that, now, I wish I could have done differently," Merriweather said. "But, over time, you transition. First you are like (the player's) friend. Then you are like their older sister. Then you are like their auntie. Now I am the same age as some of their moms. So now my conversations during recruiting are not about their favorite shoes or their favorite movie. My conversations pertain more to their parents."
Those conversations, with both parents and players, include a persuasive message.
"They are going to be challenged," Merriweather said. "They are going to be pushed. There are going to be days they're not going to like me. But I will be waiting for the phone to ring when they are 25 or 26, calling to thank me for what we did in their lives."