An artist-in-residence for the internationally acclaimed Complexions Contemporary Ballet Company is at Wright State to audition student dancers and prepare a company-licensed work for the university's Spring Dance Concert.
At the conclusion of his visit, Clifford Williams will hold an open, informal rehearsal and conversation on Saturday, Feb. 18, from 5 to 6 p.m. in room 170 of the Creative Arts Center. The session is free and open to the public.
"This is a rare chance for people to see the making of a modern dance performance," said Gina Walther, associate professor of dance. "I'm sure people will be keenly interested into this unusual peek into modern dance."
The following week, Feb. 21-22, Dwight Rhoden, founder of Complexions and one of the most sought after choreographers in the industry, will be on campus rehearsing students and giving master classes.
On April 20-23, a Rhoden work will be performed at the Creative Arts Center in the Dance Ensemble's Spring Dance Concert.
The events will conclude with a Complexions residency Sept. 25-28 and a Complexions performance at Dayton's Victoria Theatre on Sept. 28.
The College of Liberal Arts events are part of "Modern: Reimagining the New," a nearly year-long tribute to modern art by Wright State's Collaborative Education, Leadership and Innovation in the Arts (CELIA) featuring dance, wall drawing and percussion.
Walther, who took part in dance performances with Rhoden in the 1990s, said Complexions is one of the hottest dance companies on the planet and that she has dreamed of bringing them to Wright State ever since she joined the university's Dance program.
"The kind of style that they do is fiercely athletic," said Walther, a CELIA fellow. "A lot of their scenes are en pointe in which the dancers move gracefully on the tips of their toes, but you're not going to be seeing classical ballet of old. That's one of the reasons why we chose them. It's definitely cutting-edge. It's definitely modern and where modern, contemporary dance is going in the future."
Modern dance was started as a rebellion against the traditional structure of ballet, but in recent years the two schools have come closer together.
"Complexions is a company that combines the two approaches beautifully. There is a fluidity to it," Walther said. "And it's not just ballet and modern; you'll see hip-hop influences in there."
A native of Dayton, who began dancing at age 17, Rhoden has performed with Dayton Contemporary Dance Company, Les Ballet Jazz De Montreal and as a principal dancer with Alvin Ailey American Dance Theater. His work has been presented in more than 20 countries, filling some of the most prestigious theaters around the globe. They include The Joyce Theater in New York City, The Bolshoi Theater in Moscow, The Mariinsky Theatre in St. Petersburg, the Maison De La Danse in Lyon, France, The Dorothy Chandler Pavilion in Los Angeles and The Arts Center in Melbourne, Australia.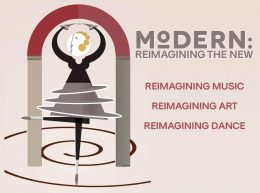 As a performer, Rhoden has appeared in numerous television specials, documentaries and commercials throughout the United States, Canada and Europe and has been a featured performer on many PBS "Great Performances" specials. He has also directed and choreographed for TV, film, theater and live performances, including "So You Think You Can Dance," E! Entertainment's "Tribute to Style" and Cirque Du Soleil's "Zumanity." In addition, he has worked with or created works for such high-profile artists as Prince, Lenny Kravitz, Kelly Clarkson, The Drifters, Paul Simon, Billy Strayhorn, Marvin Gaye, U2 and Patrick Swayze.
Rhoden is the resident choreographer of The Charlotte Ballet and has taught and served as artist in residence at New York University, Juilliard, UC Irvine, Skidmore College, The Boston Conservatory and the University of Mississippi, where his 2004 Racial Reconciliation Project was credited as a catalyst for dialogue in a community that had been historically divided.
Complexions is widely considered "America's Original Multicultural Dance Company" and has remained consistent in delivering a profound passion for diversity.
"The company from the beginning was dancers of all races and all walks of life," said Walther. "They pride themselves on trying to make dance accessible to all audiences, trying to bring it away from just the culturally elite going to dance."
The entire "Modern" program is presented as part of CELIA's Distinguished Visiting Artist Series with support from the Virginia B. Toulmin Foundation. Most scheduled events are free and open to the public.
For more information, visit wright.edu/modern.