Drones – unmanned aerial systems (UASs) – are not only filling the skies, they are attracting the interest of the military, corporations and local governments. These airborne autonomous systems have many legitimate and positive uses, but can also pose threats to security and safety,
The Federal Aviation Administration estimated in a report that there could be 7,500 civilian hobbyist drones in use within five years. Drones are also being eyed for commercial use. Amazon estimates that it will be able to fly packages to the doorsteps of its customers within five years. Agriculture and energy businesses are also interested in using drones.
But the use of drones is also creating concerns.
Drones have been used to try to smuggle drugs into the country and into prisons. And drones have been reported swooping over stadiums during college and professional football games, prompting security and safety worries. These concerns have given rise to the development of counter drone technology, intended to detect and thwart problem-causing drones by disabling them with electronic jamming devices or by snaring and grounding them with nets and parachutes.
And counter-counter drone technology is being developed to defeat counter drone technology that tries to interfere with the legitimate use of drones. For example, individuals might try to interfere with drone-based package delivery, and counter-counter drone technology would be employed to protect that legitimate deployment.
This year at Wright State University, more than 150 electrical engineering, computer science and computer engineering students populated the 38 capstone design teams practicing innovative design skills over two semesters in an active-learning practicum environment in the Student Success Center. The 38 design teams addressed problems ripped from the headlines describing UAS uses and threats – and the desire to advance the state of the art.
The UAS-centric theme is sponsored by Leidos, a global company that integrates and applies information technology, engineering and science in the areas of defense, intelligence and health. The company selected Wright State to join Leidos's Strategic University Alliance program. Through this partnership, Leidos donated $50,000 to Wright State, which enabled the students to purchase sensors, UAS platforms and other equipment to realize and test their designs.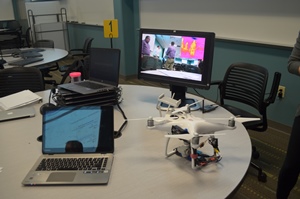 Capstone design teams completing the most impactful projects were selected to present their designs to Leidos technical representatives. The selected projects included a small drone with a camera-based image recognition feature, an acoustic/microwave sensor for collision avoidance, a thermal-imaging UAS and a ground-based counter-UAS drone detection system. The teams presented demonstration videos, explained key features of their projects and discussed the challenges they had faced.
"When our students become employed, they will work on much larger, open-ended projects with longer timelines and sparser feedback than they typically see in a traditional classroom setting," said Brian Rigling, chair of the Department of Electrical Engineering. "They need to learn to plan their own activities and decide on their own when they need to ask for help. With the practicum format of capstone design, we seek to simulate that environment."
Paul Hannen, senior systems engineer at Leidos, said he and his colleagues were impressed with the scope and depth of the projects and look forward to supporting the next ones.
"The students successfully worked their way through the requirements, design and development process — exactly the expertise they need in the workforce," Hannen said.
Rigling said there was a lot of good interaction between the students and Leidos representatives that really showed how far the students had progressed.
"Our vision is that Leidos will suggest a project framework addressing a current problem with detailed requirements as a starting point for the practicum experience," he said. "In the long term, it's going to make the capstone design experience more realistic for our students, and it's going to immerse our students in a real customer-defined design process."