Staff members from Wright State University's Office of Communications and Office of Marketing received four awards — including three first-place prizes — in the 2017 Ohio's Best Journalism Contest.
Jim Hannah, assistant director of public relations, Kris Sproles, video content producer, and Will Jones, university photographer, received a first-place award for Best Art/Entertainment Story in the Digital Media category for their collaborative story "Inside job."
"Inside job" highlighted a project overseen by Chinonye Chukwu, assistant professor of motion pictures, in which incarcerated women at the Dayton Correctional Institution created five short films.
Sproles received two first-place awards in the Digital Media category: Best Videographer and Best Medical/Science Story for "Wright State engineers help 2-year-old to Go Baby Go!"
For the Best Videographer prize, Sproles submitted a compilation of three video stories he produced: "Reel happiness," "On a mission" and "Rare earth."
Sproles' "Go Baby Go!" video story highlighted a collaboration between Ohio's STEM Ability Alliance at Wright State and the Clinton County Board of Developmental Disabilities to build a motorized vehicle to help a 2-year-old get around on his own.
"Hanks for the Memories" — an overview story capturing Tom Hanks' visit to Wright State and the Dayton region in April 2016 — received a second-place award for Best Art/Entertainment Story. The article included contributions from Hannah, Jones, Chris Snyder, photography coordinator, and Erin Pence, event photographer.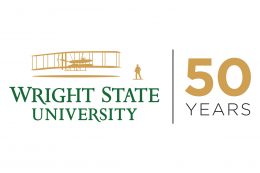 "If you have read a story or watched a video or admired a photo on a Wright State University web page, then it's very likely you're aware of this group's stellar work," said Seth Bauguess, director of communications. "Our colleagues are so deserving of this state-wide recognition, and for the second year in a row too."
Ohio's Best Journalism Contest was sponsored by the Cincinnati, Cleveland and Columbus Society of Professional Journalists chapters. The contest included entries from major newspapers, broadcasters, radio stations and colleges from across the state.
The Society of Professional Journalists is the nation's most broad-based journalism organization, dedicated to encouraging the free practice of journalism and stimulating high standards of ethical behavior.
More stories by staff members in the offices of Communications and Marketing, the Boonshoft School of Medicine and University Advancement can be found in the Wright State Newsroom.
Wright State celebrates its 50th anniversary as an independent public university in 2017, culminating with a special Homecoming celebration Sept. 29 through Oct. 1.