David Penrod was on the front line of Iwo Jima. He did not sleep for three days. He did not have a hot meal or a shower for months. He stayed ahead of his camp so that if Japanese soldiers attacked in the night, he could warn the rest of his group.
This was the story he told David Berry, Lucas Schroeder and James Hale, Wright State student veterans through the Veterans Voices Project, which connects student veterans with veterans in the community. The students record interviews with veterans about their lives.
The interviews archived on Wright State's CORE Scholar website, posted on YouTube and sent to the Library of Congress. The Veteran and Military Center also collaborates with WYSO Public Radio to produce a series of student-veteran radio stories.
The student veterans began by asking Penrod about his life before he joined the Marine Corps. Penrod was born in 1925 in Kentucky, the seventh child out of 10. Two of his brothers went into the Navy and two went into the Army, but Penrod was the only member of his family to serve in the Marines.
When Penrod tried to join the Marines, the recruiter told him to leave because he was too small.
"I said 'sir, I want to join,' and he told me 'if you want to join something, go join the Boy Scouts,' and I still wanted to join," Penrod said.
After waiting all day, Penrod spoke to the recruiter again. The recruiter told him that if he came back the next day and the doctor found him medically fit, Penrod would be sworn in.
"The doctor said 'he's not very big, but there's nothing wrong with him,'" Penrod recalled. "The recruiter said 'raise your right hand and repeat after me,' and he swore me in. Then he said 'you got your wish. You are a Marine. You're going to regret this day as long as you live, and I don't think you're going to live very long.'"
"Here I am, my next birthday I'll be 92, and I'm sure he's been dead a long time," he said.
During his time in the Marines, Penrod was part of the Battle of Iwo Jima. He said the Marines were told the assault would last for three days, but it went for much longer than that.
"We went inch by inch," he said. "We were told it would only last three days because there weren't many enemy troops left, but they didn't realize they'd dug holes and caves and they were going to fight until they were all dead."
"All we did was move up, move up, move up, but it took us 36 days to go all the way to the other side of the island. It was only five miles, and it was fighting all the way," he said.
Penrod also visited Hiroshima right after the United State dropped a atomic bomb on the city.
"There was nothing left," he said. "Thousands of people had been killed instantly, and I had been walking around not knowing I could get cancer or radiation poisoning. There was nothing! Just black, black, black, the whole town was gone."
After World War II, Penrod went to the University of Dayton and received his Ph.D. in economics. He worked at Wright-Patterson Air Force Base, where he oversaw the purchase of parts for airplanes. Throughout his career, even after he left the military, Penrod said, being a Marine made him an achiever in everything he did.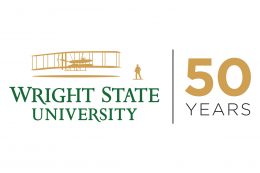 "I had to strive in the Marine Corps because they didn't want anyone that wasn't going to try. So when they said to go forward, I go forward," he said. "It made me a doer. I learned to do. I had to find a way to do anything."
Berry, a senior organizational leadership major and Army veteran, got involved with the Veterans Voices Project through his veteran's service minor. He became interested in the program after listening to a presentation by Seth Gordon, director of the Veteran and Military Center.
"He said he was paying veterans to go out and talk to veterans and I said 'wow, you're paying me to go out and swap war stories, I do that for free now. I can get paid for that,'" he said. "It's important to give veterans a voice."
Wright State became an independent institution in 1967 and spent the next 50 years growing into an innovative leader through its support of military-connected students. In 2017, it celebrates its 50th anniversary as an independent public university, culminating with a special Homecoming celebration Sept. 29 through Oct. 1.