President Cheryl B. Schrader presided over her first Wright State University commencement at the 36th annual graduation ceremony for the School of Professional Psychology.
The commencement was held July 21 in the Student Union Apollo Room.
Schrader noted that SOPP graduates more psychologists than all other psychology graduate programs in Ohio combined and that for the third consecutive year 100 percent of graduating SOPP students were placed into capstone internships, which are highly competitive.
"With the stellar hands-on training you have received in the classroom and at your internships, I have no doubt that all of you will go on to have long, successful careers where you truly make a difference in people's lives," Schrader told the graduates.
The 15 SOPP graduates hail from around the world, five of them had 4.0 grade point averages, and two are commissioned as Air Force captains and will serve in the military as psychologists.
"You and your dedicated faculty clearly invested in the class of 2017, and the ceremony felt like a family celebration," Wright State trustee C.D. Moore II, a retired Air Force lieutenant general, told LaPearl Logan Winfrey, dean of SOPP. "The words that came to mind throughout the event were 'impactful' and 'inspired.' The 36 years of SOPP is a WSU success story we can all rally around."
The class included the school's first graduates with a formal concentration designation. Roshni Rao and Daniel Garlock met requirements for the Child Emphasis Area. The class also had a legacy graduate — Bhavnanjali Lal, whose mother graduated from SOPP in 1995.
"The 2017 cohort certainly is impressive," said Michael Ranney, executive director of the Ohio Psychological Association.
During the ceremony, the School of Professional Psychology announced a number of awards including:
Student awards
Dean's Award: Samantha Sanderson Brown
Excellence in General Practice Award: Kelly Obert
E. Scott Redman Award: Tawana Jackson
Omintha Petrie Diversity Award: Katherine Isaza
Faculty awards
Best Teacher: Jeffery Allen
Best Teacher (adjunct): Eric Drown
Best Mentor: Michelle Schultz
Best Adviser: Cheryl Meyer
Keynote speaker for commencement was Francis J. Valloor, who earned his doctoral degree in clinical psychology from Wright State in 1990, has more than 27 years of postdoctoral experience in psychotherapy and extensive training in Eastern spirituality. Over the span of his career, he has earned degrees in philosophy, religious studies and journalism and written six books. With his nearly lifelong practice of yoga and 40 years of mindfulness practice, he continues to explore the relationship between psychotherapy and spirituality.
Valloor told the graduates that the role of psychologists is to lead, heal, comfort and awaken the hearts of people facing today's problems.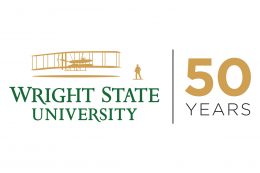 "At this time of great confusion, fear and suffering, a powerful force of love is sweeping the world," he said. "It is vital for us psychologists to join this, be a part of this. You have to be a point of light, a focus of awareness in this world. Face the world with your hearts, especially if your heart weeps for the world."
Wright State became an independent institution in 1967 and spent the next 50 years growing into an innovative leader in student success. In 2017, it celebrates its 50th anniversary as an independent public university, culminating with a special Homecoming celebration Sept. 29 through Oct. 1.