One is a Catholic priest who wants his congregants to better understand his homilies. Another is a physician-in-residence who wants to better communicate with patients. A third is frustrated at having to continually repeat herself to be understood.
All are professionals who hail from foreign countries and are fluent in English but struggle with pronunciation. They are private students of Pam Everly, who will teach a new Pronunciation Improvement course at Wright State University this fall.
The course will be part of the Learning English for Academic and Professional Purposes (LEAP) Intensive English program. Wright State's LEAP program provides full-time and part-time English instruction and helps non-native speakers develop the linguistic, academic, and social skills they need to be successful.
Classes in the six-week, 12-class course will be intentionally small, each limited to 10 students. The classes will be offered in two sessions — from Aug. 29 to Oct. 5 and from Oct. 16 to Nov. 28 — and they cost $412.50 per session plus the cost of a textbook. The classes will be held Tuesdays and Thursdays from 6:30 to 7:50 p.m. The course can be taken more than once so students can continue to work on improving their North American English pronunciation beyond a single session.
People in the area were expressing an interest in such a course, said Jeannette Horwitz, director of the LEAP program. The calls to her office from international community members were often triggered by an event that underscored their desire for better pronunciation, such as difficulties with a particular speaking or listening situation.
"Obviously, there seems to be a need," she said. "There are people who hold professional jobs in the community, but, for various reasons, want to improve their pronunciation and listening comprehension. This opportunity will give them more confidence."
Everly, an adjunct faculty member in the LEAP program, has given private pronunciation lessons to international students and professionals for the past two years.
"Their book knowledge of English is pretty good, but as far as being intelligible to an English-speaker, they have enough pronunciation problems to make it difficult to function," she said. "They just want to be more accurate in the way they're understood. Pronunciation instruction works both ways. It makes the students more intelligible to us, but it also makes it easier for them to understand what to listen for when we're speaking so they can decipher what we are saying."
Everly earned her master's degree in teaching English to speakers of other languages at Wright State two years ago. She received her first college degree in 1974 in Teaching of Russian from the University of Illinois.
"In those days, pronunciation was considered very, very important," she said. "Education changes over the decades, and now pronunciation is not one of the big focuses in language instruction. But for most people, if they're learning a foreign language, they usually want to get as close to native-like speech as they can."
Everly spends time with her students analyzing their speaking situations and then focuses on language likely to be used in those situations, like a priest giving sacraments in a hospital setting, for example. One student had trouble with understanding what people were saying to him because he wasn't accustomed to the North American accent.
Some languages have sounds that don't translate to English and vice versa.
There are individual sounds that have a "high relative load" or a "low relative load" as to how significant they are for distinguishing one word from another. For instance, if international students are not accustomed to putting a consonant at the end of a syllable, they have to learn to make their tongues cut off the air at the end.
Everly shows her students how to make a sound and sometimes contrasts it with another sound that is close to it. She uses videos and a website that displays the tongue, jaw, lips, and the teeth in an animation. Students can click on a sound and see how it's made in the mouth.
Another concern are "suprasegmentals," which include such things as stress, intonation, rhythm and the way words and syllables connect. Some languages don't stress syllables the way they are stressed in English. For example, one of Everly's students once tried to tell someone that he lived in Missouri, but it came out "misery."
Students must also learn how to time the pauses in their speech to make it more intelligible. For instance, pausing where the hyphens are in a telephone number.
"If you don't have a particular sound or similar suprasegmental in your first language, your brain has to hear it many, many times before you can even perceive it," said Everly. "So you have to have lots and lots and lots of exposure over and over again." The course will teach students strategies for increasing focused exposure.
Everly has also worked with Kimberly Warrick, coordinator of Vocal Studies and director of Opera Theatre at Wright State, to learn new techniques for teaching and improving pronunciation. "In vocal performance, they have to have perfect diction when they sing in different languages, so they have a lot to teach us," Everly said.
The course may be attractive to international students who are in master's or Ph.D. programs at Wright State and about to defend their thesis or dissertation.
"It's short, but it gives them practice for their presentations," Horwitz said.
Improved pronunciation can also enhance social interactions. "I call it water-cooler English — just to be able to communicate with people at work," Horwitz said.
Changes in speech can be challenging, and improvements take time, but small changes can make a big difference in intelligibility. Everly suggests students take the course multiple times, because the course involves a lot of practice, which is necessary for improvement.
Also coming in the fall is American Culture and Communication, a semester-long course designed to develop the communication and fluency skills of intermediate to advanced non-native English speakers in common everyday settings. Cultural themes covered in the course will include American traditions, values and behavior in the workplace and informal social settings.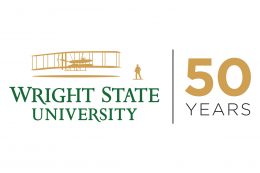 "I think it is important for Wright State to have a close connection with the Dayton community," Horwitz said. "The community asked, and we try to be creative and deliver."
For more information or to register, contact leapadmissions@wright.edu or 937-775-5287.
Wright State became an independent institution in 1967 and spent the next 50 years growing into an innovative leader in international education. In 2017, it celebrates its 50th anniversary as an independent public university, culminating with a special Homecoming celebration Sept. 29 through Oct. 1.