Cheryl B. Schrader paid her first visit as Wright State University president to the Lake Campus, meeting with faculty, staff and community leaders who wowed her with their passion for the school.
About 70 faculty and staff filled Dicke Hall on Aug. 15 to hear Schrader's remarks and ask questions. Shimmering in the sunlight through the hall windows was Grand Lake St. Marys, which provided a scenic backdrop.
"I thank all of you for the very warm welcome I have received," Schrader told the gathering. "I have been truly embraced by this very special community here at the Lake Campus."
Schrader acknowledged the outstanding work being done at Lake Campus.
"In recent years, I know you have made tremendous strides in expanding your curriculum, especially in the areas of engineering and agriculture. And you have built first-rate housing for our students," she said. "Your many partnerships with businesses and manufacturing and industry demonstrate that you truly understand and are meeting the needs of this region."
Schrader was asked whether Lake Campus will be allowed to continue to grow despite Wright State's recent budget challenges.
"Personally, I think the Lake Campus is a gem," she said, noting its recent enrollment increases. "I look at the Lake Campus as becoming probably more of a powerhouse."
Schrader was given a driving tour of the area, including nearby Celina.
"I had an opportunity to see what a great asset the lake is," she said.
Schrader also met with a group of community leaders — Wright State trustee Bill Montgomery, Celina Mayor Jeff Hazel, Tim Buschur, director of Tri Star Career Compact, and Kip Wright of the Lake Campus Alumni Network. They told her they hope officials at the Dayton Campus recognize the budget surplus, enrollment increases and physical growth of Lake Campus.
The group briefed Schrader on construction status of the Agriculture and Water Quality Center, which when completed in the winter of 2018 will house the campus' fast-growing agriculture program and strengthen its water quality research.
Schrader was also briefed on the status of the Tri Star Career Compact project, being constructed across the road from the entrance to Lake Campus. The $25 million facility that will provide cutting-edge science, technology, engineering and mathematics programs to high school students.
Voters in Mercer, Auglaize and Shelby counties last summer approved a 15-year, 0.95-mill bond levy to construct the facility, which is hoped to be completed by 2019. The state will cover $8 million of the project, with the levy funding the remaining $17 million.
Tri Star, which is offered to high school juniors and seniors from nine area school districts, plans to work with Lake Campus officials to create programs the students can continue in college.
Schrader's visit culminated with a meeting with Jay Albayyari, dean of the Lake Campus, who told her officials have worked hard to increase enrollments and raise money for capital improvements.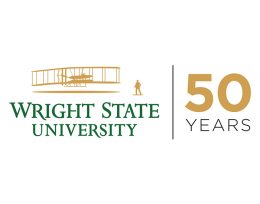 "The folks are just amazing here," said Albayyari. "They are willing to do anything."
Wright State became an independent institution in 1967 and spent the next 50 years growing into an innovative leader in affordable and accessible education. In 2017, it celebrates its 50th anniversary and sets the course for the next half century.