Eleanor is an Italian-American who talks about meeting her husband playing piano. Renika is filmed while driving her car, Kitu while working in his body shop, Richard in a fire station.
All are Cincinnatians whose experiences and special memories of the city are at the fingertips of people walking the concourse in the terminal of Cincinnati/Northern Kentucky International Airport. They are part of "One Degree of Separation," a mix-media, pulsing-with-life art installation created by Wright State University alumna Kailah Ware.
The installation is arresting, magnetically pulling people away from the coffee shops and gift stores. Video screens are set within a black, orange and turquoise mural — a graphic design printed on vinyl — featuring Cincinnati landmarks and people.
"I wanted to have a very big interactive wall, a mosaic of people's faces," said Ware. "It's kind of hard to miss. You see a piece of beautiful artwork and moving screens."
The subjects of the videos all answer the question: "What do you love about Cincinnati?"
"I was really inspired by that because I want people to feel the interconnectedness and appreciation of their hometown," said Ware, a Cincinnati native. "That was the spark of the idea."
Don headphones and touch the black-and-white photo of a face on the screen, and that person's memories begin to unscroll in a short, 45-to-60-second video.
"Maybe it is when their mom took them to the park when she couldn't afford to take them anywhere else," said Ware. "Or maybe it's them starting their own business and having success uniquely attributed to Cincinnati. Or maybe it was the day their child was born at Christ Hospital. It is very personal stories of life."
Ware interviewed and filmed more than 150 people in the Cincinnati area, trying to target all 52 of the city's neighborhoods. The interview subjects are business owners, elected officials and athletes, including a retired track-and-field Olympian, a guard on the University of Cincinnati basketball team and even Tim McGee, who played wide receiver for the Cincinnati Bengals and appeared in Super Bowl XXIII.
Next to the installation is a booth with an iPad that enables passersby to videotape their own stories, which are then shared on social media.
Ware was a natural artist at a young age, drawing pictures and using them to tell stories. Her parents encouraged her to audition for the School for Creative and Performing Arts. It was there she became more interested in art and photography and convinced that going into a creative field as a profession would be worthwhile.
Although she was accepted into the prestigious Savannah College of Art and Design and Columbia College Chicago, she decided on Wright State because of its reputable Motion Pictures program. It was there that she learned the elements of camerawork and storytelling.
"It was very competitive, and it was very rigorous," she said. "It was a deep exploration of film and philosophy and philosophy of thought and understanding human nature. Wright State really helped me cultivate my creativity, my passion and my expertise in film and photography."
Ware was also involved in Student Government, the Bolinga Black Cultural Resources Center and was even Homecoming queen. She credits the university's strong support system for much of her success.
"Being linked in to a network of people who want to see you succeed I think is what was special to me," she said.
After graduating in 2015 with a bachelor's degree in motion pictures, Ware took some business classes, worked in a camera store and then started her own company. Her Sunny Blu Digital Art Agency helps businesses build their brand through video production, photography and graphic design.
Last year, Ware received a $10,000 project grant from People's Liberty, a philanthropic organization in Cincinnati that develops civic-minded talent. The grant enabled her to design and create "One Degree of Separation."
Ware and three other artists were also recently commissioned by ArtWorks Cincinnati, a nonprofit organization that employs and trains local youth and talent to create public art, to design four murals in the Walnut Hills neighborhood.
"So this summer I spent a lot of time in the Walnut Hills community to get feedback, to make these designs truly community inspired and crafted to their neighborhood and their personalities," she said.
Ware's four renderings include a mural with neon typing that says "Think" and lights up when someone walks underneath it; a three-paneled mural that expresses the diversity of the neighborhood; a living wall of plants and flowers with text within it; and a photo montage paying homage to the neighborhood's history as an African-American business district.
Ware hopes to finalize the designs by September and have them installed next summer.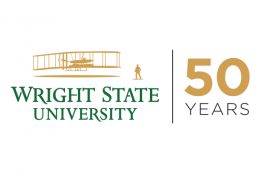 As for the "One Degree of Separation" installation, Ware initially exhibited it at Rhinegheist Brewery, a historic bottling plant in Cincinnati's Over-the-Rhine District.
Last fall, officials at the airport spotted her news release announcing the project and offered to host it. It has been in the airport since June.
Wright State became an independent institution in 1967 and spent the next 50 years growing into an innovative leader in fine arts. In 2017, it celebrates its 50th anniversary as an independent public university, culminating with a special Homecoming celebration Sept. 29 through Oct. 1.