The director of the National Academy of Engineering's initiative aimed at educating a new generation of engineers equipped to tackle pressing issues facing society in the 21st century will speak at Wright State University.
B.L. Ramakrishna, national director of the academy's Grand Challenges Scholars Program, will present a lecture at 2:15 p.m. on Wednesday, Sept. 27, in the auditorium of the Neuroscience Engineering Collaboration Building.
The lecture, titled "Grand Challenges in Engineering and the Role of Materials, Manufacturing and Education in Addressing Them," is free and open to all members of the Wright State community and the public.
Grand Challenges is a combined curricular, co-curricular and extracurricular program with five competencies designed to prepare the next generation of students for addressing multiple challenges and opportunities. Competencies include research and creative, multidisciplinary, business and entrepreneurship, multicultural and social consciousness. The program has been implemented at more than 40 engineering schools around the world.
Ramakrishna was named the Diane and Gary Tooker Professor of Materials Sciences and Engineering at the Fulton Schools of Engineering at Arizona State University in 2011. In 2013, he received the Jefferson Science Fellowship to serve as a senior science and technology adviser to the Office of the U.S. Secretary of State, where he helped guide international relations through the lens of "engineering for sustainable development" and provided intellectual, technical and strategic leadership in health, education, energy, infrastructure, economic growth and governance. In 2017, he joined the National Academy of Engineering as director of the Grand Challenges Scholars Program Network.
The National Academy of Engineering is a private, nonprofit institution whose mission is to advance the well-being of the nation by promoting a vibrant engineering profession and provide independent advice to the federal government on matters involving engineering and technology. It has more than 2,000 peer-elected members.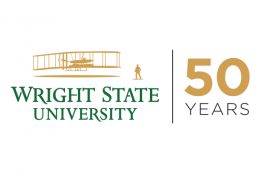 For more information or to RSVP, which is optional, contact Sharmila M. Mukhopadhyay at sharmila.mukhopadhyay@wright.edu or Heather Casto at heather.casto@wright.edu or 937-775-5040.
Wright State celebrates its 50th anniversary as an independent public university in 2017, culminating with a special Homecoming celebration Sept. 29 through Oct. 1.