A portable decontamination tent designed to provide interprofessional training at Wright State University in disaster response will be used as part of a three-day immersion exercise.
The Wright State College of Nursing and Health and Boonshoft School of Medicine purchased the tent as part of a $204,000 Regionally Aligned Priorities in Delivering Skills (RAPIDS II) Grant through the Ohio Department of Higher Education in 2017.
The grant was used to acquire simulation equipment for student training at both the Dayton and Lake campuses. The equipment includes the decontamination tent as well as sophisticated, high-tech mannequins capable of mimicking a vast range of illnesses and injuries.
"It was a wonderful thing for us. We're really excited," said Deborah Ulrich, interim dean of the College of Nursing and Health.
The tent and some of the mannequins will be used in the immersion exercise in October as part of a disaster nursing course.
"We are going to practice what would happen if we had some kind of disaster that occurred," said Ulrich, adding that local police and fire departments will be involved in the exercise.
The tent will also enable training to be held in multiple locations to meet the needs of the entire region.
Ulrich said the mannequins are extremely realistic and have become an important part of nurse training. Patient simulation allows educators to recreate important but rare clinical situations that most students would miss if left to random clinical encounters. It also enables educators to create high-risk situations in a non-threatening environment with no risk to patients.
The mannequins can simulate medical emergencies such as heart attacks, enabling nurses to practice CPR and intubation. One mannequin even simulates delivering a baby. In some cases the mannequins simulate talking.
"This is a great thing for Wright State and the community," said Ulrich. "We're able to educate students in as realistic a manner as possible."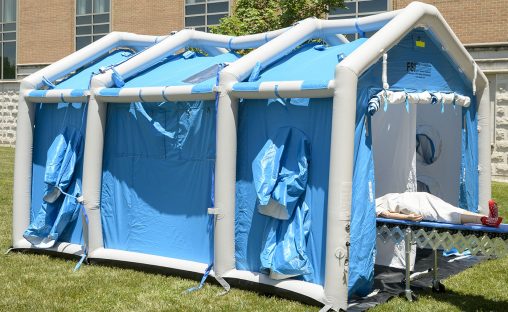 The grant was used to purchase several mannequins at the Lake Campus for the nursing, medical, pharmacy and family nurse practitioner students. Lynn Franck, clinical instructor and educator for the nursing program, and Lori Martensen, director of the Wright Rural Health Initiative, helped acquire the grant.
The RAPIDS II grant is intended for community-based development. Other grant recipients included Sinclair College, Clark State Community College and Edison State Community College.