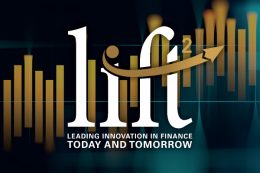 Nationally known investment expert and stock market historian Sam Stovall is among the speakers at the fifth annual LIFT2 Symposium, hosted by the Wright State University Raj Soin College of Business and the Department of Finance and Financial Services.
The Leading Innovation in Finance Today and Tomorrow (LIFT2) Symposium is scheduled for Friday, March 22, from 8 a.m. to 6 p.m. in the Student Union.
The event is largely designed for practicing professionals in the banking, insurance, accounting, investing and financial planning industries. It will feature discussions on pressing issues in finance and financial services, transformative presentations from the who's who of the financial services industry and the opportunity to network with peers and students from regional universities.
"We are really excited about this year's symposium," said Marlena Akhbari, chair of the Department of Finance and Financial Services. "Sam Stovall is a very prominent person in the world of finance. And he is part of an outstanding symposium lineup."
The symposium is free for Wright State students. Registration is $25 for students from other universities, $125 advance general registration and $150 for those who register the day of the symposium. Up to seven continuing education credit hours are available for a variety of industry certifications.
The symposium schedule and registration information are available at wright.edu/event/lift-symposium.
Through keynote speeches and breakout sessions, the symposium will touch on everything from investing to tax reform and a holistic approach to retirement planning to the growing issue of divorce in retirement known as "gray divorce."
Stovall, the featured noon keynote speaker, is chief investment strategist of U.S. Equity Strategy for the Center for Financial Research and Analysis (CFRA), one of the world's largest independent investment research firms. He serves as analyst, publisher and communicator of CFRA's outlooks for the economy, market and sectors. He is often sought out by national television networks for his views.
"He is a well-known name in the finance media," said Bill Wood, senior lecturer coordinator in the Financial Services Degree Program. "He can talk about market trends and anomalies over the past 50 years and what the future likely holds. He is a very entertaining and informative speaker."
The symposium will also feature breakfast keynote speaker Elizabeth Jetton, a thought leader in the financial planning profession who will discuss holistic approaches to retirement planning; and Christopher T. Vincent, partner and head of fixed income for William Blair Investment Management, a premier global investment firm.
"In the fixed-income world, you don't get any bigger than Chris Vincent," said Wood.
Also speaking at the symposium will be Michael Hadley, an attorney who frequently briefs Congress and U.S. Treasury officials about legislation related to employer-sponsored retirement plans; Lili Vasileff, a certified divorce financial analyst who will talk about the financial implications of divorce among Baby Boomers; and Jeffrey Levine, director of advisor education for Kitces.com, a leading online resource for financial planning professionals, who will discuss the complexities of the new tax law.
Symposium attendees will also have a chance to network during a reception that begins at 5 p.m.
Akhbari said the symposium promises to be even more popular this year, attracting participants from Columbus, Cincinnati and beyond.
"Every year we just get more successful and people walk away feeling invigorated," she said.