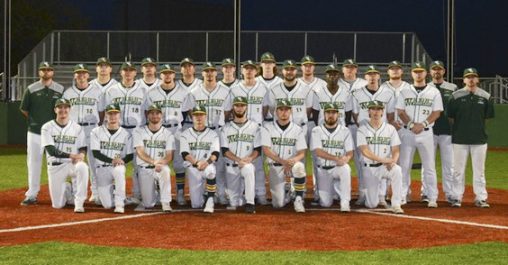 The Wright State University-Lake Campus Lakers will play in the United States Collegiate Athletic Association Small College World Series for the fourth consecutive year, capturing a No. 4 seed.
The Lakers (20-11) will meet the men's team from No. 5-seed Mississippi University for Women on the campus of Penn State DuBois on May 13.
"Anytime we hear our name selected to compete in the USCAA World Series it is a great feeling," said Lakers coach Chad Geier.
Mississippi University for Women, also known as "The W," has a female-to-male enrollment ratio of 81%-to-19%. The Owls (16-11) return to the series for a second straight season.
The winner will play either top-seeded The Apprentice School, eighth-seeded Penn State Mont Alto or ninth-seeded Selma University.
"Playing on the national stage is a tribute to the hard work and excellence of this team and its student-athletes," said Wright State President Cheryl B. Schrader. "We are all excited to see the Lakers showcase their talents at the world series again."
Geier said experience makes this year's Lakers team special.
"We have a lot of guys that have world series experience with us and know what it takes to win a national championship," he said. "The younger guys have really bought into the system here and we have seen some big strides from a few of them."
Solid performers for the Lakers this year include seniors Isaac Fitzgerald, who bats .328 and has 19 RBIs; Connor Burr, who bats .337 and has 13 RBIs; and Tyler Venters. The team also has numerous other .300-plus hitters, including Dustin Lewis, Stephen Hoendorf, Noah Greathouse, Conor Schmitt and Lawrence Hines, who is batting .396.
Greathouse will defend his USCAA Home Run Derby title this year at the series.
Lakers pitchers expected to see action in the series include Lucas Sheriff, who is 5-2 with a 3.19 ERA and 14 strikeouts in 41 2/3 innings; and Cross Youtsler, who is 5-1 with a 1.94 ERA and 18 strikeouts in 32 1/3 innings.
Geier said the Lakers have been a great defensive team this year.
"We just need to pitch to contact, fill up the zone and let our defense work," he said. "If we can do that, I think we will win games."
Geier believes the players will feel less pressure of playing in this year's world series because they have been there before.
"In years past, you could tell some guys were pressing a little too much," he said. "We have played fun, loose baseball as of late and when things click you can feel it. It's a feeling like no other. Winning is contagious and right now there is no better time."