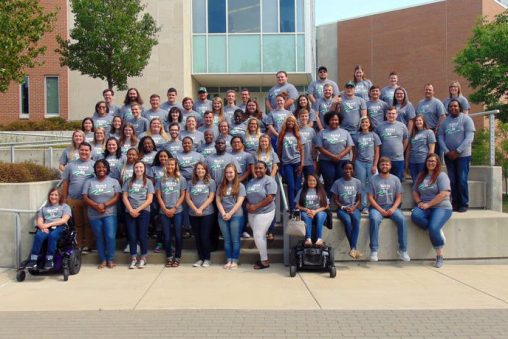 Wright State's leadership has reinforced the university's commitment to Inclusive Excellence. One of the initiatives involves extra training in anti-racism and social justice that has been planned this year for the professional staff of Wright State University Residence Life and Housing as well as for the resident advisors who populate the dorms.
Every August, to prepare for the academic year, resident advisors are trained in identity development, implicit bias and understanding privilege.
"This year we don't want to wait to start the learning and discussions until fall," said Jennifer Attenweiler, associate director of Residence Life and Housing. "There is so much work to be done so we are starting now."
Residence Life and Housing's live-in professional staff will participate in a book reading and discussion of "How To Be An Anti-Racist" by Ibram X. Kendi. Kendi, who leads Boston University's new Center for Antiracist Research, is one of the nation's pre-eminent scholars on race and racism. His 2019 book, a New York Times bestseller, argues that everyone must actively be anti-racist — not just "not racist" — to progress toward racial equality.
"How To Be An Anti-Racist" will be discussed during Campus Housing's July retreat. The book is also expected to be used to have a critical dialogue with RAs in the fall.
In addition, Attenweiler and the Residence Life and Housing team drafted a statement supporting Black Lives Matter, the international human rights movement originating within the African American community that campaigns against violence and systemic racism towards black people.
The statement reads:
"Residence Life and Housing at Wright State University is saddened to witness the continued bigotry, racism, intolerance and violence which has marked recent days and been a deeply engrained facet of our country's collective history. We join others in grieving the loss of George Floyd, Breonna Taylor and Ahmaud Arbery, as well as the current and historical loss of respect for human dignity and worth throughout our country. The expressions of hatred and exclusion black lives experience daily are contrary to our values and beliefs. Our campus and residential community has the capacity to make a positive difference and we are committed to addressing social and racial injustice."
The statement includes a list of resources such as books and podcasts as well as suggested actions to support Black Lives Matter. The statement was sent to all of campus housing's residential leaders — resident advisors, Residential Community Association leaders, the African American Residential Caucus and the National Residential Hall Honorary.
In August, campus housing hopes to create a series of facilitate social justice discussions to be held during professional development sessions throughout the 2020–21 academic year.
The educational programming will be extended to residential students when they return to campus.
"We will be holding facilitated discussions around race, justice and equity," said Attenweiler.